If you look at the latest trademark filing trends, the number of trademark registrations has increased significantly. We can't ignore the fact that it's going to increase in the coming year. India is a developing country; every year many small businesses open and start their operations. However, due to a lack of awareness, they prefer not to invest in registering their unique mark. Most of the time, manufacturers invest their resources in building world-class products/services. Moreover, they do business without registering their mark for years. When they realise that they should register their mark, they find that the mark is already registered. This is a disheartening moment for the person who invested his/her lifetime to build something from zero. Therefore, you must register your trademark when you're doing business. Hence, in this article, we are going to talk about trademark registrations in depth.
The Role of Trademark Registrations in Growing Your Businesses
Nowadays, trademark registrations have become extremely important to increase the growth of your businesses. Moreover, a company may use its trademark while advertising its products or services. Displaying trademarks on your products is an effective way of communicating with your customers.
For instance, when a customer visits a store, he/she looks in the section of the product that he/she needs. Your trademark lets them know about your business and goods.
In figure 1, you can see a registered service mark. Both service marks and trademarks are intellectual properties that offer a similar type of protection against infringement. A trademark or a service mark protects brand names and logos.
For instance, Silver Bullet Invalidity Search is a firm based out of the United States. The company has registered the mark i.e., figure 1.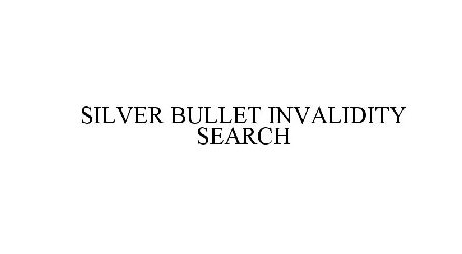 Figure 1 Silver Bullet Invalidity Search, Service Mark
In figure 2, you can see the additional information of the service mark that is stored in the TESS database.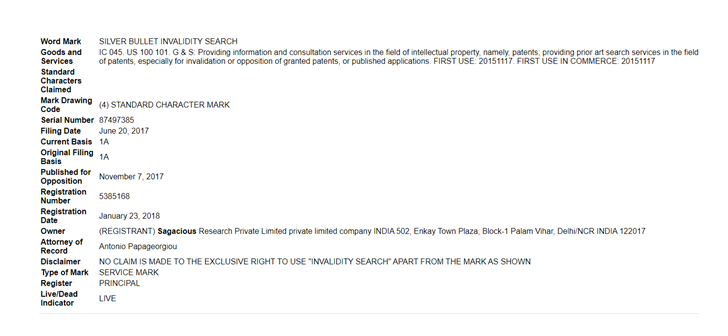 Figure 2 TESS Search Result
The company may use the service mark at the time of marketing. Trademarks assist in representing the image of the company. Also, trademarks can create a sense of trust among customers or clients. Nowadays, trademarks are commonly used in digital marketing. As a result, your use of trademarks can help you achieve the desired results. Your business will grow in this way.
Related Article: The Importance of Trademark Name Search
Trademarks in the United States
The first step is to do a trademark search since you don't want to invest your resources on an already registered trademark. According to a WIPO report, in 2016, 7 million trademark applications were filed worldwide. Moreover, the number of trademark registrations was huge as well. Therefore, it becomes important to do a trademark search.
Here are some key points that you must know before filing a trademark application.
You can only file one mark in a trademark application. In case, you have multiple marks, you must file a separate trademark application for each mark.
You have to pay for each class of goods and/or services in your application. For instance, if the mark is used on goods in two different classes, you must pay a fee for two classes.
You get two options to file your trademark application: TEAS Plus and TEAS Standard
In table 1, you can see the basic filling fees for a trademark in the United States.
Table 1 USPTO Basic Trademark Filling Fees
| | | |
| --- | --- | --- |
| Trademark Processing Fees | Electronically Filed | Paper Filed |
| Application for registration, per international class (paper filing) | NA | 600.00 |
| Application for registration, per international class (electronic filing) | 400.00 | NA |
| Filing a TEAS Standard application, per class | 275.00 | NA |
| Filing a TEAS Plus application, per class | 225.00 | NA |
You must follow the USPTO trademark guidelines. Otherwise, the Office may reject your trademark application.
Related Article: Avoid Trademark Infringement Easily
Trademarks in India
In 2017-18, Intellectual Property India, IPI, received 272,974 trademark applications. Moreover, 300,913 trademarks were registered in the same year. Also, we have mentioned this earlier in the article about the importance of a trademark search. The first step will always be the trademark search.
In table 2, you can see the basic filling fees for a trademark in India.
Table 2 IPI Basic Trademark Filing Fees
Amount in INR
Application for registration of a trademark
Physical Filing
E-Filing
Individual / Start-up/Small Enterprise
5,000
4,500
In all other cases
10,000
9,000
You need to submit your trademark application to IPI with the required fees. After receiving your trademark application, IPI will go through the examining procedure and register your trademark.
Related Article: Trademark Search India – Things You Need to Know
TMReady
TMReady was established a decade ago. Since then, the company has served clients from more than 45 countries. With its worldwide reach, TMReady has a strong client portfolio. We provide services: Trademark Searching, Trademark Monitoring, International Trademark Search, and Trademark Docketing and Paralegal Services. TMReady believes in the transparency of the services that it offers. As a result, we have made some samples available for those who are interested in registering their trademarks.
Please visit our service page if you wish to use our service – TMReady
Other Related Articles:
Trademark Watch Services: Benefits
Trademark Monitoring Fundamentals: Know the Importance