Trademark name search is the first and foremost step in the process of registering a mark. Every year, the USPTO receives applications seeking a trademark. Now, the USPTO has a huge database of trademarks/service marks. We know that a company offers multiple services or goods. Therefore, the company needs a special mark that can distinguish it from other companies in the same market. Generally, companies inscribe their unique marks on goods. Also, companies use their service marks with services. What if, one day, you got to know that your trademark isn't unique? Imagine how would you feel? Right, we don't want to feel that pain. Therefore, we advise you to do the trademark name search before trademarking a mark. In this article, we're focusing on the trademark search and its importance.
Related Article: Hire A Trademark Attorney: What's The Need?
What is Trademark Name Search?
A Trademark Name search is also known as a clearance search. It's a step in the registration process that helps applicants in registering a trademark. Before submitting your trademark application, you should do the trademark name search. Moreover, this step is quite simple. First of all, you need to search for a mark that you want to register. Moreover, you may hire an experienced professional, or you can search on your own. However, using a trademark service is always a better option than searching by oneself. Various free sources are available for searching. Moreover, you may use one of them or each one of them. The following are the searching options.
Trademark Electronic Search System (TESS)
Google Search, AdWords, Keyword Planner, and Alerts
Third-party tools (Software or Manual Search)
However, conducting a complete search doesn't mean that the USPTO will accept your trademark application. The USPTO has every right to refuse your application if the application doesn't comply with its guidelines.
Related Article: Interesting Facts about Trademarks
Why should I do a trademark search?
You should do a trademark search/clearance search because it's the most important step of the registration process. The USPTO won't accept your mark if someone has already registered a mark similar to yours. Moreover, if your mark infringes on someone's trademark rights, you may be summoned to the court. Since a trademark is an intellectual property, you can't violate trademark rights. Moreover, the USPTO won't do a trademark search for you before submitting a trademark application. A trademark search can save you from applying unnecessarily for a trademark. In case, when you find out that your mark violates trademark rights, you may choose another mark. Moreover, you can get more information about your mark after searching. Also, the search can classify your mark as either a generic or a descriptive mark.
Related Article: How to Get a Trademark for Logo?
Where do I search?
The USPTO has designed an online search system that works 24-7. Trademark Electronic Search System allows applicants to do a trademark search free of charge. Moreover, TESS has a database including registered trademarks and pending applications.
Using Trademark Electronic Search System (TESS)
In figure 1, you can see the interface of the Trademark Electronic Search System. The USPTO has made a robust system. Moreover, you can set variables so that you can get optimum results. Once you set variables in the search form, you need to submit your query for a result.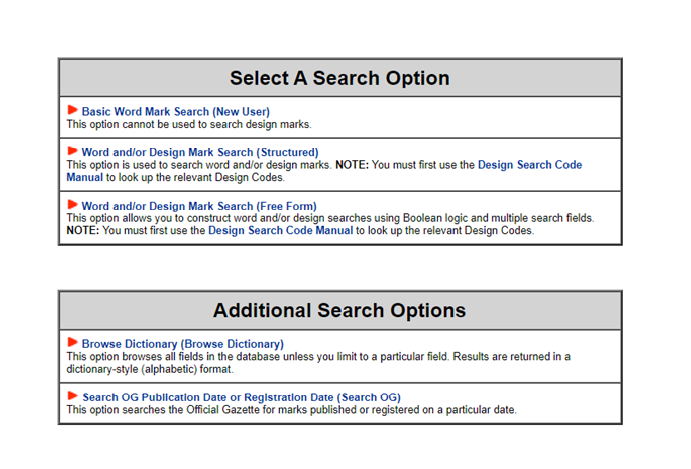 Figure 1 TESS search interface
Related Article: What is the new USPTO Trademark Rule?
You should hire TMReady
Having many options to go with can confuse you. Therefore, to remove your confusion, we ask you to check out sample works before hiring a firm. We, at TMReady, believe in transparency when it comes to business. Before hiring, you may check a few sample works here – Sample Works. TMReady has been serving clients for over a decade now. The company believes in customer satisfaction. Based out of the U.S., TMReady offers world-class services worldwide. Having years of experience in trademark searching, TMReady has a team of skilled professionals. Moreover, our services won't burn a hole in your pocket.
If you like to use our services, visit us today – TMReady.
Other Related Articles
Trademark Filing: A Step by Step Process
Trademark Filing Fees: A Quick Overview