Trademark Search India may assist you when you're filing a trademark application in India. A service mark, sometimes, is called a trademark. However, we must know that both are different. A company puts its trademark on its goods so that buyers can identify a brand. A service mark, on the other hand, helps consumers identify a service provider. However, the purpose of a trademark or a service mark is the same. Moreover, the process to get a trademark or a service mark is the same as well. Each year, the Intellectual Property India receives tons of applications seeking trademarks or service marks. However, the numbers of registered, refused, withdrawn, and abandoned applications keep on increasing. According to the guidelines issued by the IPI, your trademark must not infringe on the trademark rights of others. In this article, we are going to see how Trademark Search India can help applicants.
Related Article: How to Perform a Trademark Knockout Search?
Trademark Search India
A trademark is an intellectual property that protects the unique mark of your brand. Therefore, you need a trademark if you're a manufacturer or a service provider. It represents your brand and helps your loyal customer distinguish your goods or services from those of others.
Moreover, in table 1, you can see how trademark filing has been changed in five years. The IPI has published this report. Starting from 2013, each year, the number of applicants filing trademark applications increased. Also, in the year 2016-17, there was a considerable increase in the number of registered trademarks.
Table 1 Trends in Trade Marks Applications for Last 5 Years
| | | | | | |
| --- | --- | --- | --- | --- | --- |
| Year | 2013-14 | 2014-15 | 2015-16 | 2016-17 | 2017-18 |
| Filed | 2,00,005 | 2,10,501 | 2,83,060 | 2,78,170 | 2,72,974 |
| Examined | 2,03,086 | 1,68,026 | 2,67,861 | 5,32,230 | 3,06,259 |
| Registered | 67,876 | 41,583 | 65,045 | 2,50,070 | 3,00,913 |
| Disposal | 1,04,756 | 83,652 | 1,16,167 | 2,90,444 | 5,55,777 |
Moreover, in 2016-17 and 2017-18, the trademarks registry generated revenue of INR 19236.89 lakh and INR 28611.35 lakh respectively. The data shows that trademark applications will increase henceforth. As a result, we may see a few advancements in Trademark Search India.
Related Article: Common Law Trademark: All You Need to Know
Step by Step Guide on How to Do Trademark Search India
Since the increasing trend of trademark tells the importance of Trademark Search India. You need a handbook or a guide that can ease the process of trademark searching. Therefore, we have created a guide that will help you do a Trademark Search India.
In figure 1, you can see the interface of a searching tool designed by the IPI. The trademark searching tool has been designed carefully.


Figure 1 Trademark Search India, Intellectual Property India
Step 2: Search Type
First of all, you need to select a search type. You have three options: Wordmark, Vienna Code, and Phonetic. Also, in figure 2, you can find the search type option.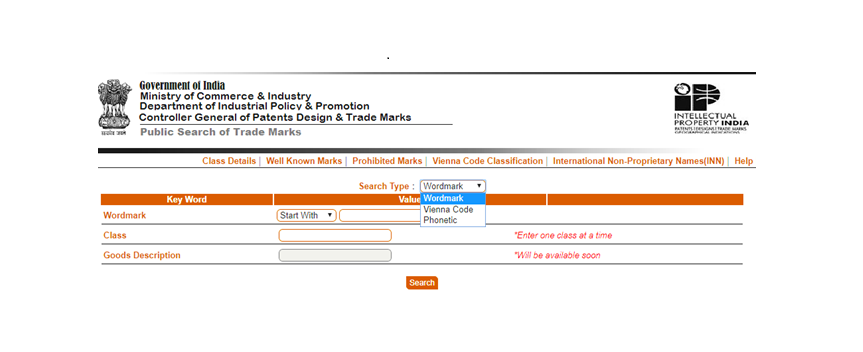 Figure 2 Search Type, Intellectual Property India
Step 3: Word mark
Once you've selected the search type, you can search your wordmark with options Start with, Contain, and Match with. Moreover, you may see this option in figure 3.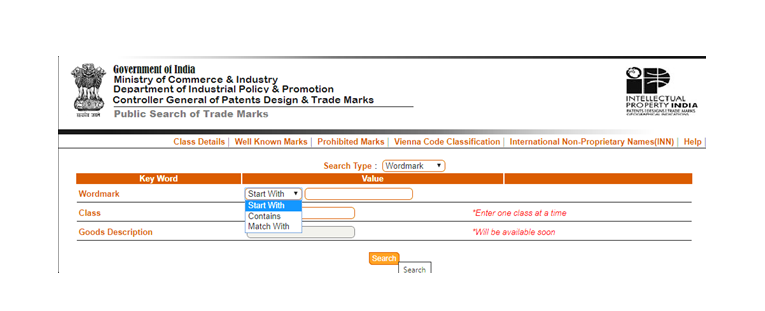 Figure 3 Word mark, Intellectual Property India
Step 4: Classification
In the end, you have to enter the classification value that is shortened to class. In case, you're not sure about the classification of your service or good, you can find the classification here – Trademark Classes.
As of now, the Goods Description option isn't available. However, it'll be available anytime soon. After feeling every value, you can click on the search to get the results. In figure 4, you can see the actual search result for the values given in table 2.
Table 2 Trademark Search Values
| | |
| --- | --- |
| Search Type | Wordmark |
| Start With | Milk |
| Class | 1 |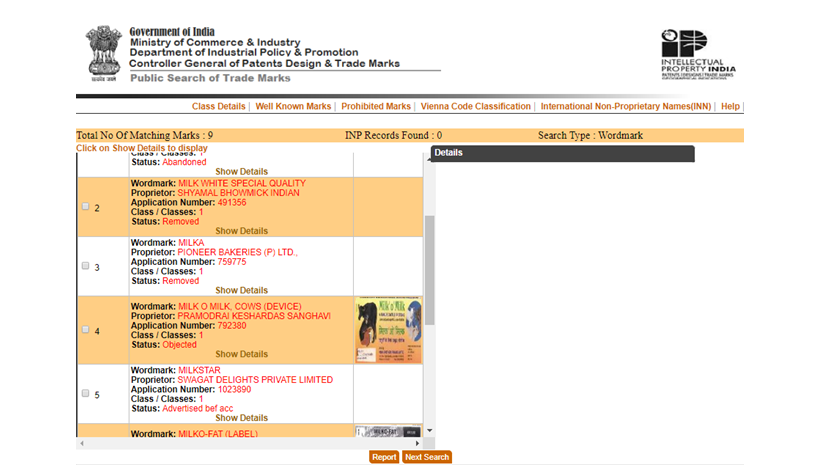 Figure 4 Trademark Search Result, Intellectual Property India
Moreover, the Intellectual Property India has issued a list of trademarks that applicants can't register. Here's that list – Prohibited Trademarks.
Related Article: How to Do a Trademark Image Search in the USPTO Website?
Do You Need to Hire TMReady?
Since you're interested in trademarking your mark, TMReady may assist you in doing so. TMReady has been serving clients for over 10 years now. At TMReady, we believe in providing the best services to our clients. Therefore, we have an awesome client portfolio. We provide various solutions such us Trademark Searching, Trademark Monitoring, International Trademark Searching, and Trademark Docketing and Paralegal. Moreover, you may check our sample works before making an order here – Samples.
We have a team that has years of experience in offering trademark services. Also, if you happened to start a company recently, you may want to register a trademark as well. You may check out our pricing here – TMReady.
Other Related Articles:
Trademark Monitor: A Complete Guide
How is Trademark Licensing Beneficial for Your Brand?
Trademark Filing Process: A Complete Overview