Google trademark search is required to tackle rapidly increasing number of competitors day by day. The first and foremost part is to claim the IP rights over these inventions.One important aspect is to register your new mark or symbol and for that, you need an effective Google Trademark search. TMReady presents you the best solutions regarding Google Trademark Search.It helps you in developing the mark from the grassroots level.Also, we guide and back you up at every step of the life cycle.
Moreover, our profound Google Trademark search helps you in redefining your mark in a better way and thus deciding better scope. Also, it ensures Non-Obviousness and distinct the mark from the prior art, ultimately boosting the grant procedure.
We are serving leading innovators, top Fortune 500 companies, the research and development wing of various organizations and also solo inventors.
Our specialities:
Our professionals prepare an extensive and comprehensive search report with the help of the latest software. They own a profound knowledge about IP rights and current technologies. This ensures a pertinent project and outcome.
Our search covers all the regional and global databases. We provide you the most perfect solutions. Also, our professionals perform an advanced AI search on these databases and then our experts perform a thorough manual search to verify the outcomes. This allows us to hand you the most precise results.
Our basic agenda is to execute the clients to work efficiently and quickly with the least turnaround time. We perform keen research on the requirements and provide maximum benefits that a client can get. Moreover, our customized services cover all the major parts of the search and efficient prices ensure 100% client satisfaction.Also, we always keep you in touch with the work status and the required changes.
We use 2 basic types of Google Trademark search:
Federal Trademark Search:
We use Tess (Trademark Electronic Search System), which is a search database of USPTO.
General:
Additional:
Common-Law Trademark search:
It does not own a particular database, but you may search the areas like the Internet, Administrative and Case materials, Yellow Pages, Business records, Newspapers and booklets, State Trademark Registers, News and TV sources, etc.
search variants we use:
AI search: The search is performed with the help of artificial intelligence. A software program sorts out the necessary data according to the feed.
Manual search: The manual search is done with the help of professionals that consider particular criteria to search related content. It is more reliable.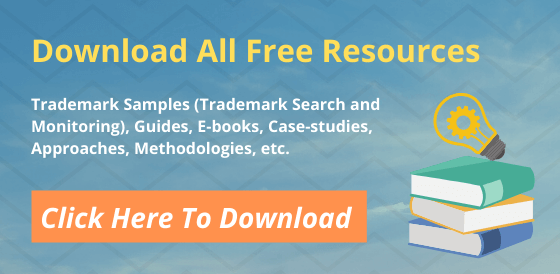 Here you can Download our All free Resources:
Trademark Samples (Trademark Search and Monitoring), Guides, E-books, Case-studies, Approaches, Methodologies, etc.