A search for Trademarks not only provides you an exclusive right to use the mark but also prevents others from copying it and seeking illegal advantages. You may establish the right to mark by utilizing it legitimately in commercial or business purposes. This requires you to register your mark to a Trademark Office.
TMReady provides you the most flexible coverage over the search for Trademarks. Our team of experts and professionals perform a manual search over a global or regional database for the most pertinent outcomes. We believe in complete customer satisfaction and our main motto is to keep customer interest in front. Moreover, we keep transparency between the customer and the working. Also, we provide free beneficial advice for long term benefits.
What makes us different?
Search methodology:
Our search for Trademarks cover all the databases whether it is regional or global. We provide you the most pertinent results. Our expertise performs an advanced AI search on the related mark through the latest search engines and then our professionals perform a manual search to cross-check the previous results. This digs out the most reliable and precise outcomes.
Report preparation:
TMReady has a team of professionals in the field that are in continuous touch with the latest technologies and software. They check out all the various possibilities and arrange them in the most systematic manner to create the most comprehensive reports. This helps the user to get an easy and comparable overview of the outcomes.
User handling:
Our agents are in continuous touch with the client during the complete process and provide regular updates at every stage of the life cycle. This helps the client to ask for the required changes. Also, we ensure to finish the task within the deadlines and at a price that is efficient for the client. Moreover, we provide customizable themes for search operations. Thus, you not only get what you want but also what you need.
Our practices on search for Trademarks:
We perform our searches on 2 variants:
Basic:
Additional:
Common-Law Trademark search:
It does not own a particular database, but you may search the following areas:
Internet
Social media
Newspapers and booklets
State Trademark Registers
Yellow Pages
Business records
Administrative and Case materials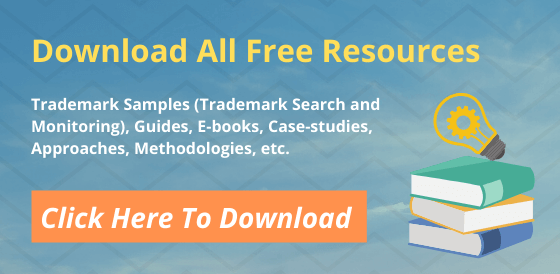 Here you can Download our All free Resources:
Trademark Samples (Trademark Search and Monitoring), Guides, E-books, Case-studies, Approaches, Methodologies, etc.