Before you commit your hard earned money and resources to a brand it's important to secure it earlier so that no third party can make or sell your products unlawfully. And the whole journey starts with doing an effective trademark search and then registering it with the respective statutory authority. Before taking a plunge into the domain of trademarks there are some basic points which every business should know.

Some Important Facts about Trademark:
What are trademarks?
A trademark is a unique identifier, often referred to as a "brand" or "logo". Once a trade mark is registered, the ® symbol may be used with the trademarks. A Trademark is thus an intangible property of its owner and the owner has the authority to enforce it in the case of unlawful uses. A Trademark can be in various forms like Logos, Words, Shapes, Sounds and Smells-or any combination of these.
Why trademarks are needed?
There are plenty of reasons for a mark to be trademarked. With a trademark registration, you become the proprietor of the mark and you are entitled to enforce it in the case of an infringement. Below are some of the reasons a small business owner should trademark their brands.
Trademark makes you proprietor of the brand
You can stop others from copying your products
Trademarks are an effective communication tool
Trademarks make it easy for customers to find you
Trademarks are a valuable asset
 What can't be trademarked?
Assuming the fact that you are a business operating from the jurisdiction of United States, we can say that not all marks are eligible for being trademarked. As per the United States Trademark Statutory rules any or all marks can't be deemed valid for federal registration. Section 2 of the Lanham Act or Trademark Act, 15 U.S.C. § 1052, provides many restrictions as to those trademarks that may not be federally registered with the United States Patent  and Trademark Office's (USPTO) Principal Register.
 Registered ® vs. Unregistered ™ Trademarks: Trademarks can either be registered or is under the process of being registered. In the former case we use ® (R in round circle) and in the latter we use ™ (TM). In other words, we can say that the use of ® specifies that the marks have already been taken and approved by the respective trademark office. While the mark ® specifies that the mark has been submitted to the trademark office and is yet to be approved by the patent office.
Why is trademark search important?
Irrespective of the fact that whether you wish to protect a brand name or a business name a preliminary trademark search is important. It lets businesses understand if they are investing right. This also lets them understand whether they should move ahead with the same. A trademark search is though not mandatory as per the statutory rules; still, it is recommended as it can help you in many ways in future.
Monitoring trademarks: Once you registered a trademark the story doesn't end here as you are required to monitor your trademark continuously for any kind of abuse and misuse. Trademark monitoring should be an ongoing task wherein various database are used to ensure an effective and comprehensive trademark search.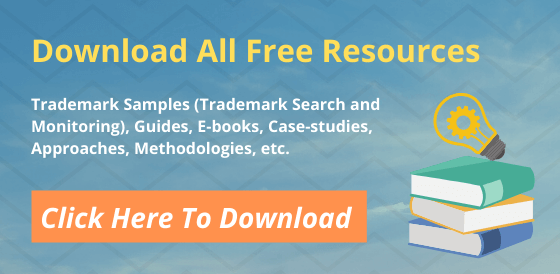 Here you can Download our All free Resources:
Trademark Samples (Trademark Search and Monitoring), Guides, E-books, Case-studies, Approaches, Methodologies, etc.
Click Here to Download