In an era when every now and then you can come across a trademark infringement, it's important for brand owners to protect their brands from any kind of unlawful uses. Trademark monitoring is all about ensuring this and companies that provide such services are called as Trademark Monitoring Service Providers. This article is an attempt to underline what trademark monitoring is, its importance and how to put an effective Trademark Monitoring Service in place.
Since, trademark monitoring is a continuous and eternal process it needs to be done throughout the year and round the clock. Failing to execute an effective trademark monitoring mechanism in place can compromise your business goals. There are many methods through which we can ensure an effective trademark monitoring process but there are some common which are indispensable and every brand should incorporate them.

Executing a Trademark Monitoring Service:
Doing Trademark Monitoring with Databases: No matter, whichever jurisdiction you are living in, there are federal databases those are free and trademark search firms can execute a search to get relevant data pertaining to their search. The database provided by WIPO (World Intellectual Property Organization), EUIPO, U.S. PTO and many other countries can be a handy tool in doing trademark monitoring.
All these databases contain hundreds and thousands of marks (active or dead). Apart from having a user-friendly interface all these databases provide various tools and techniques those can be used to refine a trademark search.
Doing Trademark Watch with Google Alerts: Google offers plenty of tools for business owners and marketers to improve their business and Google Alert is one of those tools. We can set Google Alert for each keyword that we want to track and Google will send those blogs, web-pages, and contents directly to our mailbox. Since it's very handy and is available readily, we can use it to monitor our marks on the cyberspace.
Tracking RSS Feeds for Trademark Monitoring: RSS feed is another important tool that we can use to track activities of competitors. Simply by subscribing to these feeds we can get relevant posts and updates related to our keywords and keep a vigilant eye on every action we are intending to monitor.
Trademark Monitoring with Source Codes of websites:  It can be a wonder for those who are not much familiar with websites and its source codes. But do you know that HTML source codes can be used to trick a trademark. In this method, your competitors can use your trademark in their HTML codes to rank for keywords and phrases which you own. Thus, it's important for brand owners to keep on tracking HTML codes of competitors and/or potential competitors to see if they are ranking for your trademarks and tradenames.
Monitoring Trademarks with online ads:  
Online ad-platforms, like Google Ad-words can also be used to trick your trademarks and tradenames. Here, competitors bid on keywords that are exactly same as yours and consequently when a user clicks on the sponsored ad intending to buy your product, they land up on a site that is not yours. Thus, every brand owners need to keep a vigilant eye on each ad that their competitors are bidding on.
Every business should avoid such fraudulent activities and should ensure that a search of their trademark should not bring up competitor's sponsored ads.
Above mentioned methods are some of the ways through which we can implement an effective trademark monitoring process in place. If you are uninitiated and have not much exposure to trademark monitoring then there are many trademark monitoring service providers that offer these services.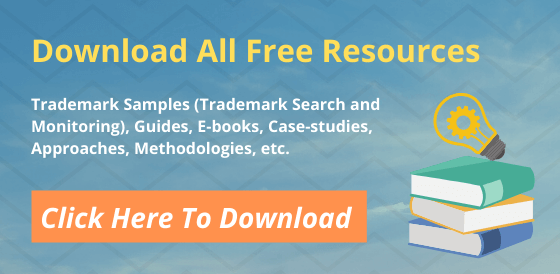 Here you can Download our All free Resources:
Trademark Samples (Trademark Search and Monitoring), Guides, E-books, Case-studies, Approaches, Methodologies, etc.
Click Here to Download