A trademark is generally referred to as a "logo" or "brand". It is used to differentiate products from different companies or more simply to make a company identifiable in the market by a short graphic representation. A trademark comes as a combination of phrases/ a word or words/ symbols/ diagrams. Trademarking a logo or brand signifies protection provided to the responsible company. Any other entities using the same logo or brand would be sued by the company for illegal activity.
A service mark is the same type of device as a trademark. The only difference being it is used to distinguish the services of one company from those of other companies. It can be with or without a distinctive logo.
Things that are protected by trademark, patents and copyrights
| | |
| --- | --- |
| SERVICES | PROTECTION PROVIDED |
| Trademark | Protection for brand names, logos that are used on goods |
| Copyright | A legal right granted to the creator of an original work. Exclusive rights granted for use and distribution of a work |
| Patent | Protects an invention or process |
How do domain names, business name registrations, and trademarks differ from each other?
Domain Name: A domain name is an address through which any internet user can access a particular website. It is used for searching and identifying computers on the internet globally. Addresses for computers are maintained through a unique IP or Internet Protocol Address which is a combination of numbers. However, it is troublesome to remember these numbers and herein appears the purpose of a domain name.
A domain name is a combination of letters or numbers or both in any order. The domain name is used along with extensions such as .com, .net, .in etc. A domain name is one and unique. There cannot be two similar domain names on the internet. Hence domain names need to be registered before it is used.
Business Name Registrations: A business name which is also known as a trading name signifies a name or title under which a person or other legal entity, trades or does business. A business name helps a customer to identify the company and simultaneously to stand out from the crowd. A business name helps to lay a foundation of trust and emotional connection within the brand and the consumers. However, a business name only identifies a business. To give the name an exclusive right, one should protect the name by trademarking it. The steps that should be followed to register a business name in the United States are as follows:
To visit the U.S. Patent and Trademark Office website (uspto.gov)
To check the database of Trademark Electronic Search System (TESS). This will enable a business to make sure that another entity has not registered an identical or similar mark for the same categories of goods or services offered by the business willing to trademark its business name or logo
A response within six months from the date of filing will be available on the USPTO website.
How will you be benefitted by TMReady?
At TMReady, we do all your trademark searches vigilantly so that your brand and mark receives maximum protection. Our services being quite affordable will not make us compromise with your search results. You can have a look at our free sample search reports which is available on our website. Also, please visit our service page for more information.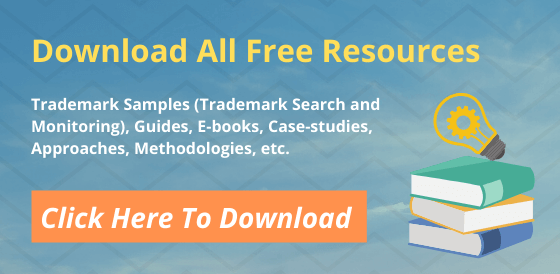 Here you can Download our All free Resources:
Trademark Samples (Trademark Search and Monitoring), Guides, E-books, Case-studies, Approaches, Methodologies, etc.