A trademark is a design, symbol, mark, word, or phrase that marks the identity for a specific product, commodity, or a service. Trademarks grant the lawful owner, a right of a lifetime to use, modify, or take any advantage from the registered trademark, and at the same time legally prevents any other person, business, or organization to enjoy its unauthorized access. Let us look into why trademarks are important and all the benefits that trademark offers to its lawful owner, company, business, or organization.
5 Key Benefits of Trademark
Serves as a mark of identification: Trademark becomes a mar of identification for a specific brand, company, etc. through which it can be easily identified from the rest of the brands present in the market. Customers can easily distinguish between the brands they wanted to look for and the brands they never wanted to trust again. This kind of attachment with any brand is built upon by consistently satisfying the consumers with good quality products or commodities, and actually fulfilling all the promises made by the brand owners on any date it was supposed to be accomplished. This pleases the customers and makes them attach themselves to the brand they love by getting to know everything about the brand ad all the products it launches from the internet.
For example, Adidas is a brand that has found appreciative in the sports industry by launching sports gear and related stuff, etc. Since they are making their customers happy by proving them with the best in quality products, the customers know their trademark and they can actually find any of its products by simply looking at its trademark; there is no need to mention the name Adidas on every product. It is much better to put on the trademark or their logo.
Provides an edge to the market: Trademark serves as status symbols and customers can easily recognize their favorite brand products by identifying the trademark or the associated registered symbol, instead of looking for the name of the brand. It removes confusion form the market and builds its stand in the market through its popularity and happiness among its customers. People are able to approach, file their complaints, tweet about their products on social media, etc. easily by simply using the trademark or the symbol within their comments.
For example, phones made by Apple Inc. are commonly known as iPhone, since its marketing is so good that people nowadays don't care that it is simply a phone and it can be even called as a phone rather than calling it an iPhone every time. Even a fourth grade can easily tell that whether a product is from Apple or not, by simply looking at its half-eaten apple logo on the back side.
Provides a better approach to reach vast audience: Making its registered symbol, a brand can easily advertise or market their products with much cheap advertising costs. Once a brand gets popularized, there is no use of putting the real brand name into posters, and all that; this marketing can be easily done by simply writing the product's details with the trademark symbol, and flash it on social media and as advertisements on other sites, to make it more popular. Today is the era of marketing everything through social sites, which is commonly known as 'Digital Marketing'. Companies even hire professionals that could promote their services on a social platform so that they could approach large audiences in minimum investment.
For example, a very famous shopping site, Amazon has set its trademark as a shopping cart with a blue background, from which anyone can identify that it is Amazon. Since its digital marketing is so strong and impactful that a lot of small firms are interested in collaborating with big firms like this.
Serves as a life-long support for business expansion: Once a trademark gets registered after successfully fund out to be unique in trademark search, the trademark will be marked in the name of its lawful owner for a lifetime. Since the banner or the sign stays for a lifetime with the owner, he/she can accelerate its growth in the same industry or in some other industry, using the same trademark. It even brings long-term competitive advantage in the market by building up image among its customers and challenging other brands to provide better quality products. This open challenge helps in maintaining continuous advancement in technology and substantial market growth.
For example, a very famous noodle producing brand 'Maggi' was earlier a strong competitor in the market only by producing instant noodle. But as the name gets better and bigger, the brand has started to earn good profits in the field of making other food commodities, such as sauce, masala, pasta, etc.  Similarly, everything depends upon the reputation of the brand that it earns by proving good services or commodities into the market. Once it gets the established name, it can expand its business to other commodities as well.
Provides an inexpensive protection: Trademark serves as a better alternative if one wants to avoid huge investments for expansion and yet reach the greater audience. Since it only needs a preliminary search that incurs some amount of cost if any professional is hired, and rest some extra minimum amounts at some course of registration. Except for the starting cost, it only needs to be renewed every 10 months after its filing, which requires an input of very less amount; yet the privileges offered are ample.
For example, world's leading bike manufacturers 'Yamaha', has been in this industry for since the year 1995. From then onwards, it has made its way to attract huge fan followers by proving its best in the market, yet holding their banner or symbol.
Other benefits of Trademarks
Trademarks also help to identify how much popular is the brand on behalf of its customer feedback and rumor among them. It even offers some extra benefits (financial) if someone is found infringing its banner, symbol, logo, or trademark. Not only this, the brand is able to take quick customer feedback on the basis of social sites, amend them, and produce much better quality in a shorter time period.
How will you be benefited by TMReady?
We at the TMReady are committed to helping you build the right brand by providing our comprehensive search and monitoring services. All the searches are conducted manually at the most cost-effective price without compromising on the quality. You can have a look at our free sample of trademark monitoring reports, trademark searching reports and trademark watch sample reports that are available on our websites. To know in details on the pricing of our Trademark Search and Monitoring, please visit our service page. You will also get to know location based Trademark Watch services pricing from our service page.
For any other query, you can just fill up our contact form available on our website and we will get back to you.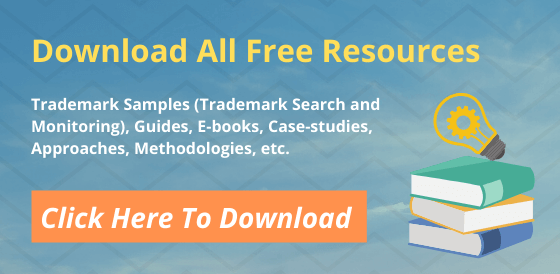 Here you can Download our All free Resources:
Trademark Samples (Trademark Search and Monitoring), Guides, E-books, Case-studies, Approaches, Methodologies, etc.