Introduction to Vienna Classification
Vienna code is an International classification system under the Vienna Agreement. Importance of Vienna Classification is immense as it systematically classifies the figurative elements of international trade marks. The trademark registration process begins with searching for any similar well-known trademark. An availability search using search engine for trade marks provide information about opposable trade marks. Also, it will inform you about any infringement attempts by trademark holders.
Are you confused about what is the importance of Vienna classification for trademark search? Before discussing the Vienna agreement and codification meaning, let us understand the figurative elements of trademarks.
What is a Figurative Trade mark?
A figurative trade mark is a mark represented in figurative form, i.e., graphic form. They safeguard the words in the form of a graphic design. Thus, figurative marks focus on the images, logos, drawings, trademark symbol, etc.
Figurative elements in Trademarks
A trademark is one of the many forms that provide intellectual property protection. Trademark offices assign trademarks for words, business logos, images, marks, devices, etc. Basically, trademarks differentiate your brand or product from competitors. Besides, service marks provide a unique identity to the service provided by an individual or a company. Out of many trademarks, some (business logos and images) can have some figurative elements.
As a result, it gets tough to perform a search for figurative elements of marks. This is why Vienna code search gets very significant as it allows trademark search for trademark symbol. Checking trademark availability before trade mark application is significant to avoid trademark infringement.
Also Read: A to Z of Trademark Classes
What is the Vienna Code?
The Vienna Code is a classification system that categorizes the figurative elements of trademarks. This codification was done under the Vienna Agreement. The Vienna classification categorizes the trademark symbol into 29 broad categories, 145 different divisions, and 816 main sections.
Importance of Vienna Classification in Trademark Search
To simplify the global trademark search for unregistered trademark symbol, WIPO set up the Vienna Classification system under Vienna Agreement. The Vienna codification is a comprehensive yet holistic system for trademark logo search according to international standards. 
Here are some important advantages of the Vienna classification: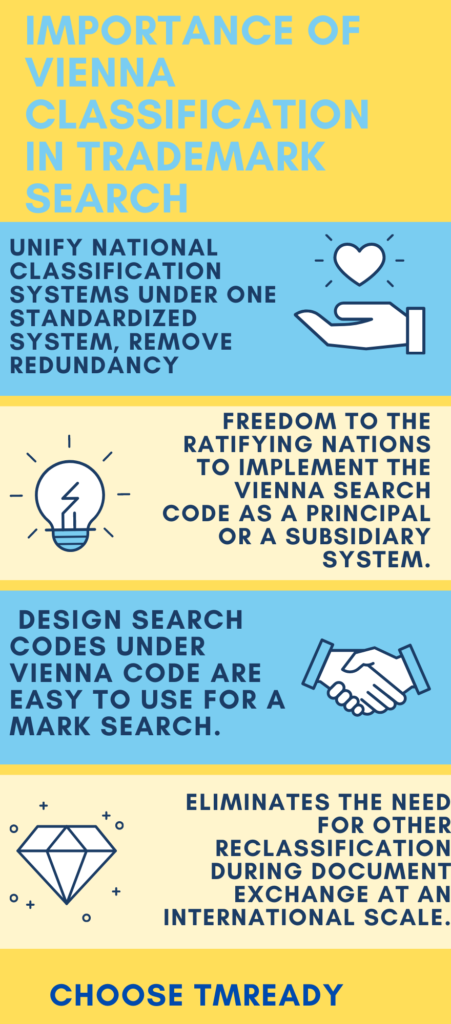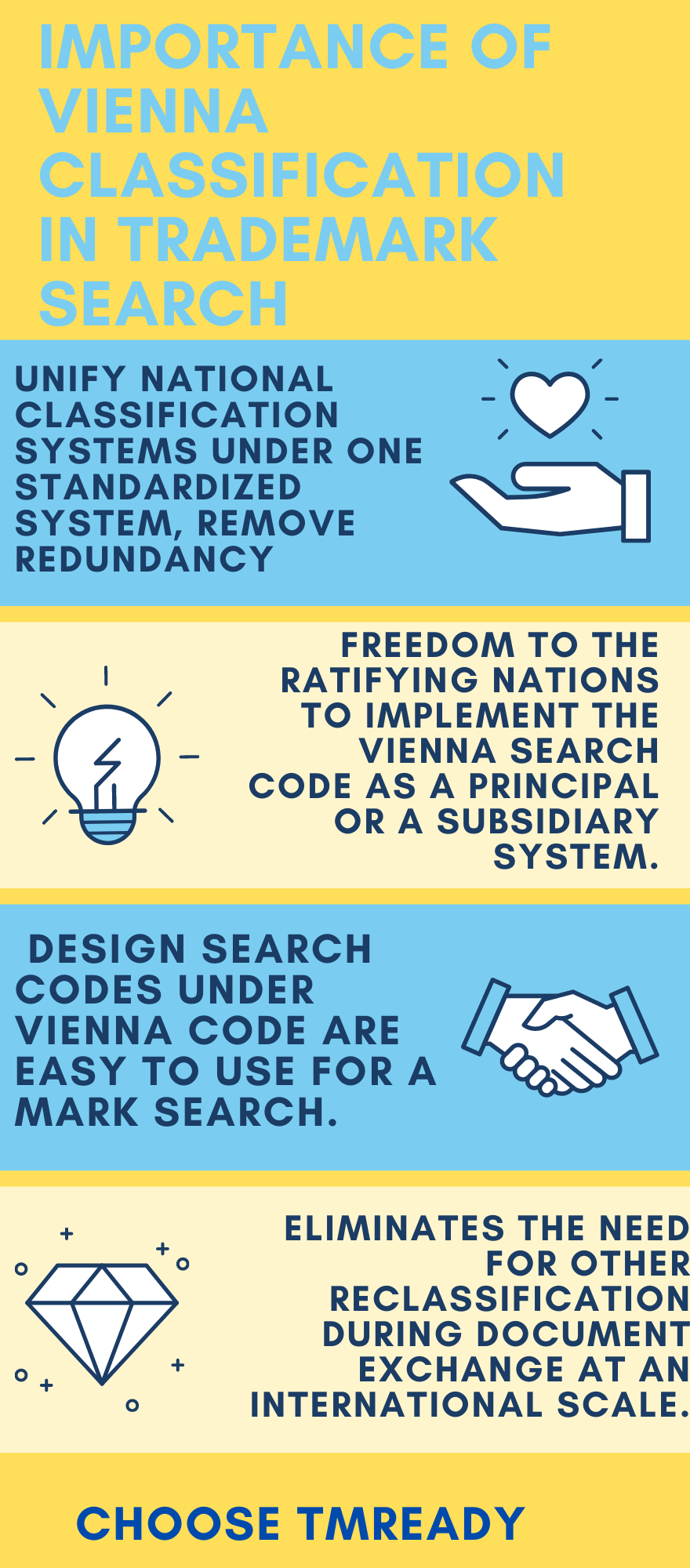 The Vienna code merges the modern trademark laws under various national systems into one unified system. Therefore, there is no need to reclassify systems for international registrations of figurative trade marks.
The Vienna classification by WIPO offers complete liberty and freedom to the ratifying nations. A ratifying country can implement the Vienna search code as a principal as well as a subsidiary system. If the trademark office uses Vienna Search Code as a subsidiary system, then they can continue using their national classification system under their trademark legislation along with the Vienna Classification.
Member countries of the Vienna Agreement have the right not to include some or all of the 29 sections in their national classification. This right is linked with trademark registration and renewals of marks. Thus, the Vienna agreement provides the freedom to member countries to shape the rules according to their trademark legislation. Thus, any country can easily incorporate the Vienna search codes in their trademark registration process.
The Vienna classification searches make the trademark search for an unregistered trademark comparatively easy for figurative elements. The design search codes under Vienna Classification are easy to use for performing a trade mark search.
It provides a standardized trademark image search database to perform search by trade mark for figurative marks, thus eliminating the scope of likelihood of confusion by USPTO.
Moreover, Vienna codes search not only enables trademark anticipation searches but also eliminates the need for any substantial reclassification work during document exchange at an international scale.
Also Read: How to Perform Trademark Clearance Search?
Structure of Vienna Classification for Trademark Search
| | |
| --- | --- |
| Category 1 | Celestial bodies, natural phenomena, geographical maps |
| Category 2 | Human beings |
| Category 3 | Animals |
| Category 4 | Supernatural, fabulous, fantastic, unidentifiable beings |
| Category 5 | Plants |
| Category 6 | Landscapes |
| Category 7 | Constructions, structures for advertisements, gates or barriers |
| Category 8 | Foodstuffs |
| Category 9 | Textiles, clothing, sewing accessories, headwear, footwear |
| Category 10 | Tobacco, matches, smokers' requisites, fans, travel goods, toilet articles |
| Category 11 | Household utensils |
| Category 12 | Furniture, sanitary installations |
| Category 13 | Lighting, wireless valves, drying tools, cooking and refrigerating equipment, washing machines, |
| Category 14 | Ironmongery, tools, ladders |
| Category 15 | Machinery, motors, engines |
| Category 16 | Telecommunications, sound recording or reproduction, computers, photography, cinematography, optics |
| Category 17 | Horological instruments, jewelry, weights, and measures |
| Category 18 | Transport, equipment for animals |
| Category 19 | Containers and packing, representations of miscellaneous products |
| Category 20 | Writing, drawing or painting materials, office requisites, stationery and booksellers' goods |
| Category 21 | Games, toys, sporting articles, roundabouts |
| Category 22 | Musical instruments, bells, music accessories, pictures, sculptures |
| Category 23 | Arms, ammunition, armour |
| Category 24 | Heraldry, coins, emblems, symbols |
| Category 25 | Ornamental motifs, surfaces and backgrounds with ornaments |
| Category 26 | Geometrical figures and solids |
| Category 27 | Forms of writing, numerals |
| Category 28 | Inscriptions in various characters |
| Category 29 | Colours |
29 Categories under Vienna Classification
Purpose of Vienna Code
Device trademarks come in different forms ranging from drawings to images to logos, etc. The first step towards trademark registration is a comprehensive trademark search to ensure that there is no trademark infringement. However, trademark search gets a bit tricky if the trademark has a graphic form.
This is where Vienna Code comes in handy as it allows easy trademark search for device marks along with the exchange of documents internationally. The main purpose of Vienna code is to put figurative elements into categories to ease out the international registrations and trademark search process for device marks. Conducting an all-round search for trademark symbol also prevent any trademark infringement action.
Also Read: Top 3 Facts about Global Trademark Search
Is Vienna Code applicable universally?
No, many countries have ratified the Vienna code in their systems, but the Vienna code is not applicable in countries that have not ratified the Vienna
However, there are many countries such as Australia that have not yet ratified the Vienna agreement for intellectual property. Thus they do not follow the Vienna classification for Figurative elements of trademarks. Additionally, not all countries recognize the Vienna Code. This does not mean that the importance of Vienna classification is less for Australian Business owners and individuals seeking a figurative trademark. This is because the Vienna Agreement is still applicable for getting a registration of trademarks on a global scale. Moreover, for trademark India search, Vienna Agreement applies to Trademark search in India as India has ratified the agreement. Thus trademark registers and registry in India uses the Vienna Codification for trademark search.
What is the meaning of trademark application status "Send to Vienna Codification"?
Trademark search is an essential trademark function to start off with your application for trademark registration. A device mark search using Vienna code classification informs about any similarity with similar and well-known trademark. The trademark status in the website of the Indian Trademark Registry website shows as "Send to Vienna Codification" if a trademark has figurative elements. Indian trademark office assigns a specific Vienna code to such device marks during every new trademark application filing. As the Vienna code is given according to the figurative elements of a trademark, the logos or figurative elements are codified based on the Vienna agreement.
Choose TMReady for all the Trademark Search Needs
Performing a trade mark search is an essential trademark function if you want to get a trademark license.  The TMReady team of experienced IP professionals uses both conventional and non-conventional methods for all kinds of the trademark search. The professional lawyers at TMReady are well versed with modern trademark laws and enforcement of trademark rights. We have experiences personnel team with immense knowledge about worldwide application of trademark laws. Our trademark search experts monitor the current and potential market risks for unregistered marks.
TMReady use advances search engine for trade marks to find any opposable trade marks. Our trademark search also helps to find relevant trademarks to prevent any chance of trademark infringement action. Also, our comprehensive trademark search costs are affordable and comprehensive to suit your needs and budget. Moreover, we also provide customized search services to fulfil specific client demands. We provide the best services that will enable you to get a trademark license for your mark and take your unregistered trademark to next level. Want to know more about our services? Visit us
More Related Articles
Guide on Filing Trademark Registration in India
How Our Trademark Knockout Search Helped An Overseas Trademark Protection Company
Trademark Watching: What Makes It An Essential Service?