So you are planning to start your business. You have also chosen a perfect business structure and business name after a lot of researching and thinking. Now, you want to proceed and start the operations. But wait before you go ahead. Before you start to order business cards, ensure that you are safe from willful infringement. Here comes the need of a business name availability search. Now the question is, how to check is a name is trademarked?
First of all, you must understand that it is a must to check if a business name is trademarked to avoid any trademark infringement during trademarking company names. This is because choosing a registered name puts you at risk of infringing on others' trademark rights. In addition, trademark infringement will further attract litigations. Therefore, to trademark a business name, you should be sure that your business name is not infringing on someone else's trademark rights.
To understand the importance of checking business name availability, you should first understand the basics of trademark law.
Is your Trademark at the risk of getting rejected? Find our here: Top Reasons for Trademark Registration Refusal in USA
Trademark Law
Trademark law aims at preventing the use of a business name that is already or trademark or has the potential to create confusion with a registered business name. Thus, if you use a name that is exactly alike or even confusingly similar to a competitor's name; then you are at the risk of infringing someone's intellectual property rights. This violation provision is applicable only when the similar mark names are from the same business field having a common customer base.
Thus, before you understand how to trademark a business name, you should focus on how to check if a name is trademarked.
How to check if a name is trademarked?
The only way to check if a name is trademarked is to do extensive digging and searches by various tools. These trademark searches will help to find out other businesses using an identical name. Moreover, you can conduct these searches by yourself or seek help from TMReady.
How to Search for a Trademark Business Name
Conducting a federal business name search in the United States is a complex and multi-stage process. One needs to apply numerous tactics and make use of both free and advance platforms to see if a name is trademarked. This is why your safest bet is to hire a pro to conduct a business name trademark search.
Searching for Registered Trademarks
TESS: The most comprehensive tool to conduct a comprehensive search is the Trademark Electronic Search System by the USPTO. No matter how small or large your business is, TESS is the best federal trademark database of registered trademarks in the USA.
State Trademark Databases: Along with conducting a federal business name search at USPTO's TESS, you can also check the state's trademark database.
Websites: If you are planning to business in more than one state of USA, then you can take help of websites such as trademark.com or nameprotect.com. These websites check for the trademarked business name across 50 states.
Learn more about TESS Search here: How to Perform a TESS Trademark Search?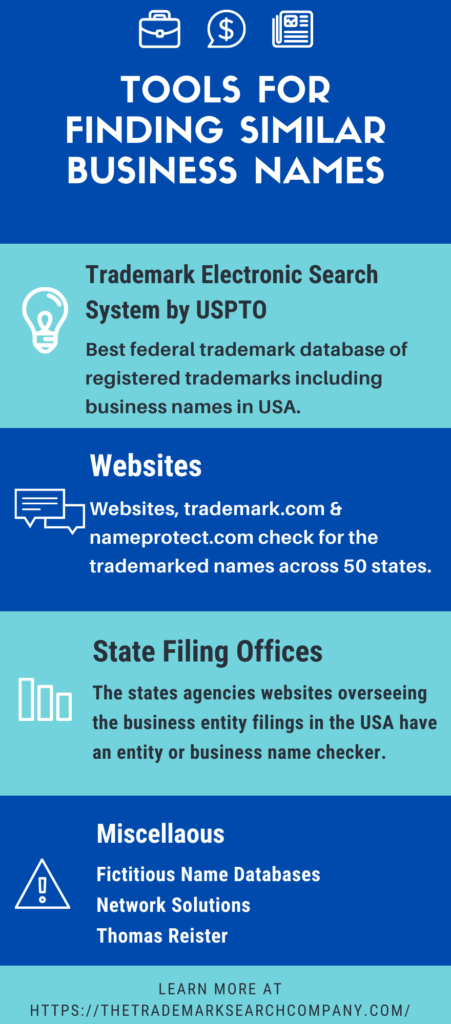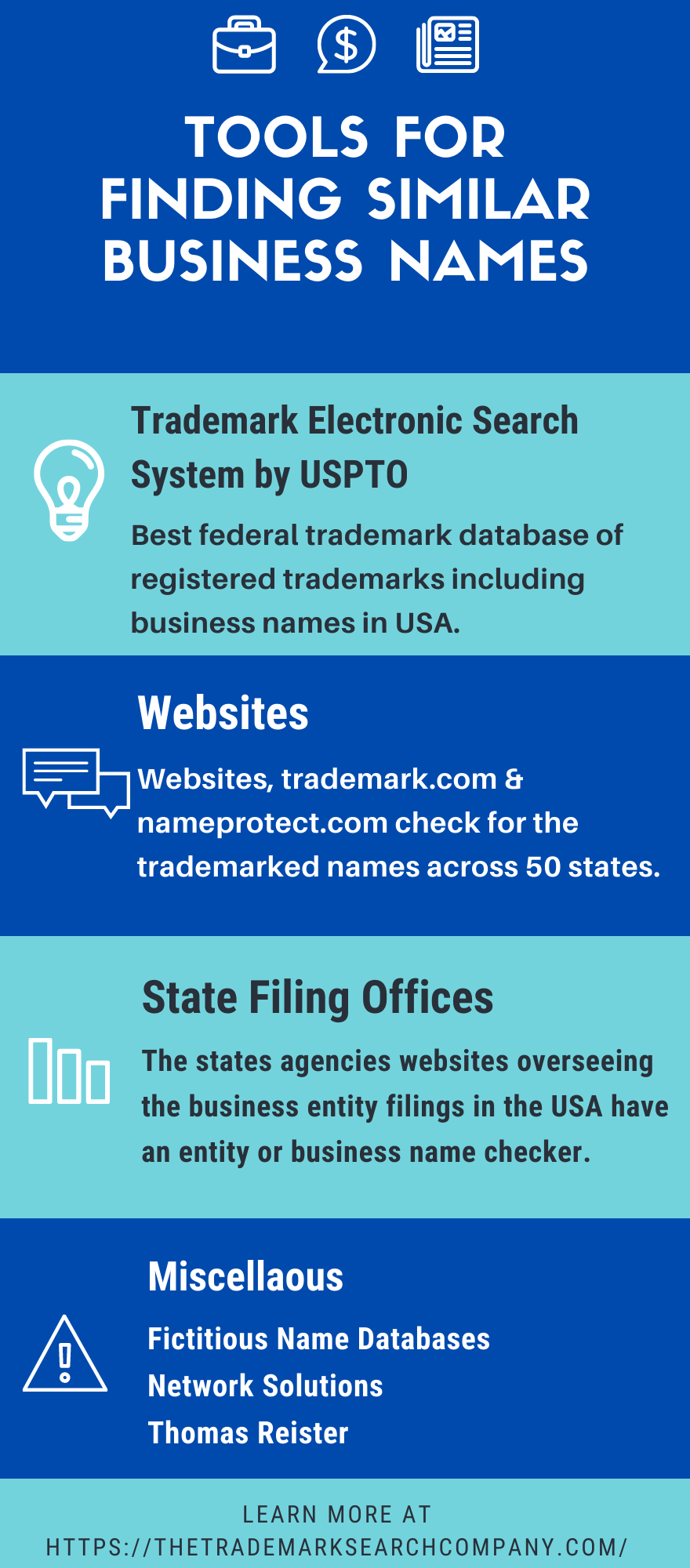 For Unregistered Trademarks
Quick Screening Search: A quick screening search is an immediate search using search engines such as Google, Yahoo, or Bing. This is the type of informal business name search that quickly finds out identical online business names. A simple google business profile search helps to hunt for businesses on the web using a business name identical to your proposed name. The biggest disadvantage of a quick screening search is that it does not include online businesses unavailable on the internet. 
Corporation, Limited Liability Companies, and Limited Partnership Name Databases: If you are planning to start a limited liability company or a limited liability partnership, then you can contact your state filing office. The state filing office helps to understand how to search their LLP name database. All the states in the USA have a state agency that oversees the business entity filings. Most of these state business filing agencies have websites with an entity or business name checker. This business name checker is an authentic resource to search for a trademark business name.
Fictitious Name Database: You can check the clerk's office to check if your proposed business name is in the fictitious business name list of your country. The list of your country's clerk offices is a really useful resource for a federal business name search. This list is quite comprehensive as it contains even unregistered business names of small companies.
The Thomas Register: The Thomas Register website, i.e., www.thomasnet.com, is a cross-industry comprehensive database of trademarks and service marks. Here, you can go through business profile of a trademarked business name. 
Network Solutions: The Network Solutions is a great online website to check the variations of the proposed business name. If a company has already reserved a similar company domain name that qualifies as a trademark, then you will not be able to use it until the underlying website is under commercial use.
Can I do a trademark search on my own?
To check business name availability in the USA is a complex process. There is no one wholesome place to get a comprehensive trademark availability search. An important reason behind the complexity is that a company can establish its business name as a trademark merely by using it. So, trademark professionals employ different strategies to dig out identical in-use and pending trademarks. Moreover, most of these free tools are incomplete, thus not providing a comprehensive trademark search report missing out on important business name trademarks. Even USPTO's TESS federal database does not cover unregistered business names. 
Do you have a pharmaceutical business? Learn why your company should have a trademark here: Why should you get a pharmaceutical trademark for your company?
Why should you hire a pro for Trademark Search?
A professional trademark search firm has the required expertise and advanced search tools to find available trademark names. If you have questions like "how to check if my business name is trademarked?", "Is my business name taken?"; then you should hire a trademark search firm.
Here is why:
To get a complete and holistic trademark availability report before trademarking a business name
Avoid liability for willful infringement and litigations
To eliminate costs involved with trademark violation litigation
Maintain your company's reputation
To conduct multi-country trademark searches
Choose TMReady
"Is my business name taken?"
If you are a new business owner and have this question, then trademark search is the answer. Hiring TMReady for conducting a comprehensive search for trademark business names can be a great choice to eliminate infringement. We leverage conventional as well as non-conventional resources to find identical business names along with helping customers protect their valuable brand names. Investing in a business name search will save time, filing fee of an already trademarked business name, and trademark infringement lawsuits later on. Got more queries? Visit us here to get all your answers.
More Related Articles
The Crucial Advantage of Trademark Monitoring Services
How to Avoid Trademark Infringement Easily
Your trademark Needs Continuous Watching: Here's Why