Trademark is one of the most important assets a business can have and thus it should be handled and maintained consciously throughout the life cycle. Failing to maintain associated documents could put your precious intellectual property at risk. Since, a trademark is an identity of a business it should be given appropriate attention when it comes to renewing it or addressing other office action related issues. This article describes various steps involved in maintaining a registered trademark in US .

Below are some of the points those should be taken care of while maintaining a trademark in US:
Filing Specific Requirements Documents- Within approximately two (2) months after the Statement of Use (SOU) is approved, the USPTO issues a registration. However, it will stand invalid if you don't file the specific requirements documents. In other words, we can say is that failure to make these required filings will result in cancellation and/or expiration of the registration. If your registration is cancelled or expired, your only option is to file a brand new application and begin the entire process again from the very beginning. The fact that your mark was previously registered does not guarantee registration when you submit a new application.
Some of the important specific requirement documents are:
Combined declaration of use & incontestability under Sections 8 & 15
Declaration of Use and/or Excusable Nonuse of a Mark under Section 8 (File between the 5th & 6th year after registration)
Combined Declaration of Use and/or Excusable Nonuse/Application for Renewal under Sections 8 & 9 (File every 10 years after registration)
Declaration of Incontestability of a Mark under Section 15
Section 7 Request for Amendment or Correction of Registration Certificate
Combined declaration of use & incontestability under Sections 71 & 15
Surrender of registration for cancellation
Declaration of Use and Excusable Nonuse under Section 71
Response to Post-Registration Office action
Monitoring Registration Status- Even if your mark is registered, you should monitor the status of your registration on an annual basis through the Trademark Status and Document Retrieval (TSDR) system. It is particularly important to check the status of your registration after you make any of the filings required to keep your registration alive including between the fifth and sixth year after the registration date and between the ninth and tenth year after the registration date.
Updating registrant address- It is critical that, as necessary, you update your correspondence address (and, where appropriate, your email address) and update your owner address. Please be advised that changing the owner's address will not change the correspondence address, and vice versa.
Protecting trademark rights- Trademark owners are responsible for enforcing their rights. USPTO does not "police" the use of marks. While the USPTO attempts to ensure that no other party receives a federal registration for an identical or similar mark for or as applied to related goods/services, the owner of a registration is responsible for bringing any legal action to stop a party from using an infringing mark. If a right holder suspects that a registered mark is being infringed upon or may be subject to future infringement, the registered mark can be recorded with U.S. Customs and Border Protection through its e-Recordation application. This is why trademark monitoring is very important and every trademark owner should do it throughout the year.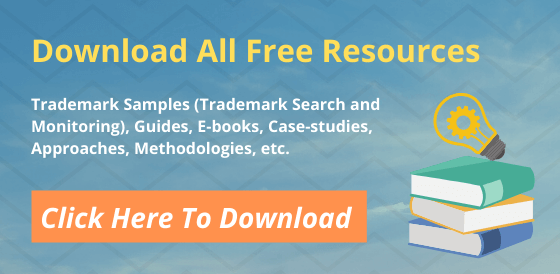 Here you can Download our All free Resources:
Trademark Samples (Trademark Search and Monitoring), Guides, E-books, Case-studies, Approaches, Methodologies, etc.