Here is what you can do if someone else is using your trademark:
File a Civil lawsuit
Prove the trademark infringement
Get the infringer to stop using the mark, selling the products under the mark
Get monetary relief.
Read the article to know the procedure and conditions for infringing someone using a trademarked name without permission.
Let us get started.
But before that, do you want to know how to find if your business name is already trademarked by someone? Read this blog to get a step by step guide and 4 free tools to check for your business name availability.
Can Other People Use My Trademark?
Others can use your mark in 2 conditions without trademark infringement:
For fair use: Using a trademarked name without permission for educational, editorial, and informational purposes or to express an opinion, framing parodies for non-commercial use for a non-legal audience is allowed. Fair use also allows mark usage for storytelling.
Trademark Licensing: Seek mark owner's permission by paying a licensing fee and signing a licensing agreement with particular terms and conditions.
Can I Have the Same Trademark Name as Someone Else?
You can only have the same trademark name as someone else if the services and products offered under the two marks are different. Refer to this table for clarity.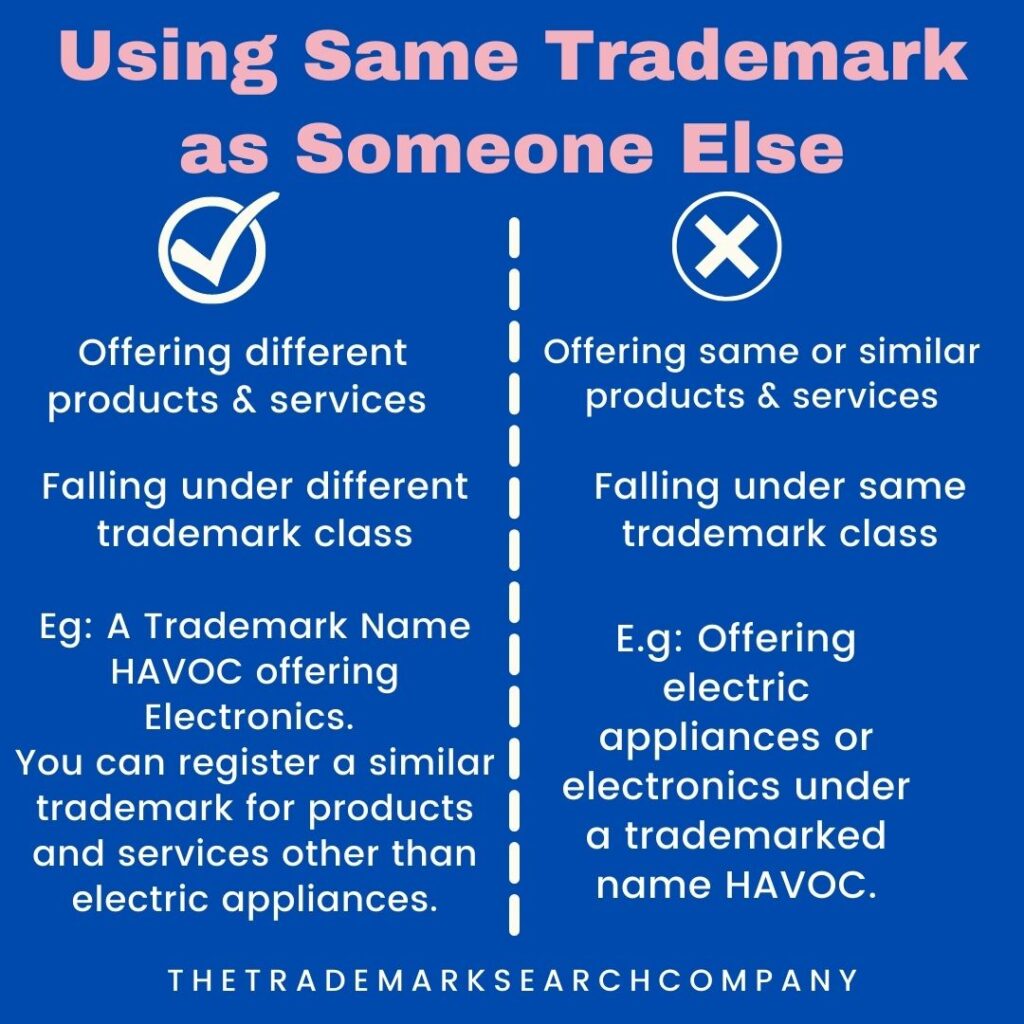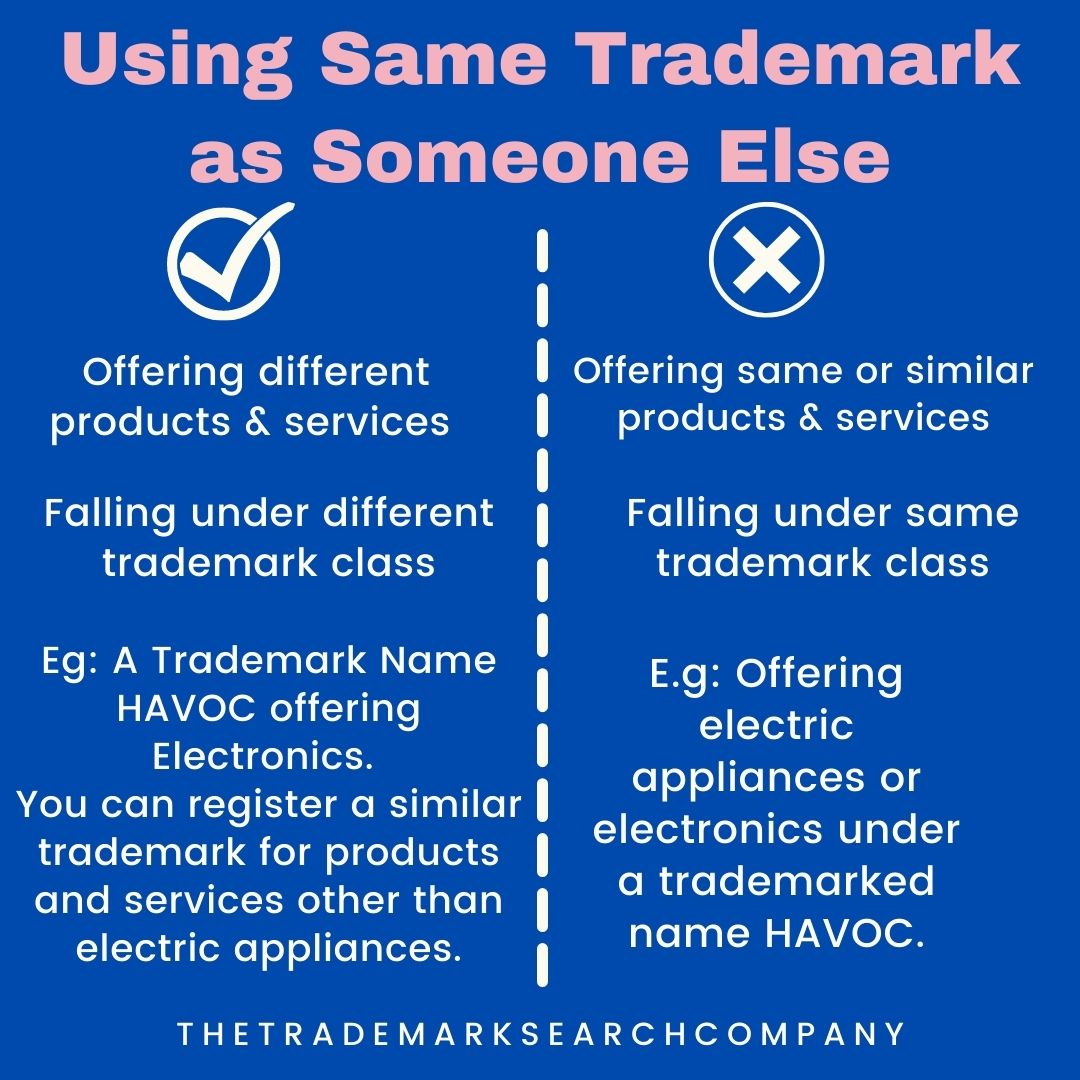 On the other hand, if the two items are unrelated and unlikely to confuse, trademark law will not bar the two companies from utilizing the same name. To put it another way, if the same name is registered in multiple trademark classes, it does not constitute infringement.
Do you know that two companies can have same name? YES, without infringement. This is how it's possible.
What is an Example of a Similar Trademark Name Without Causing Infringement?
Two examples of the same tradmark but no issues of infringement are: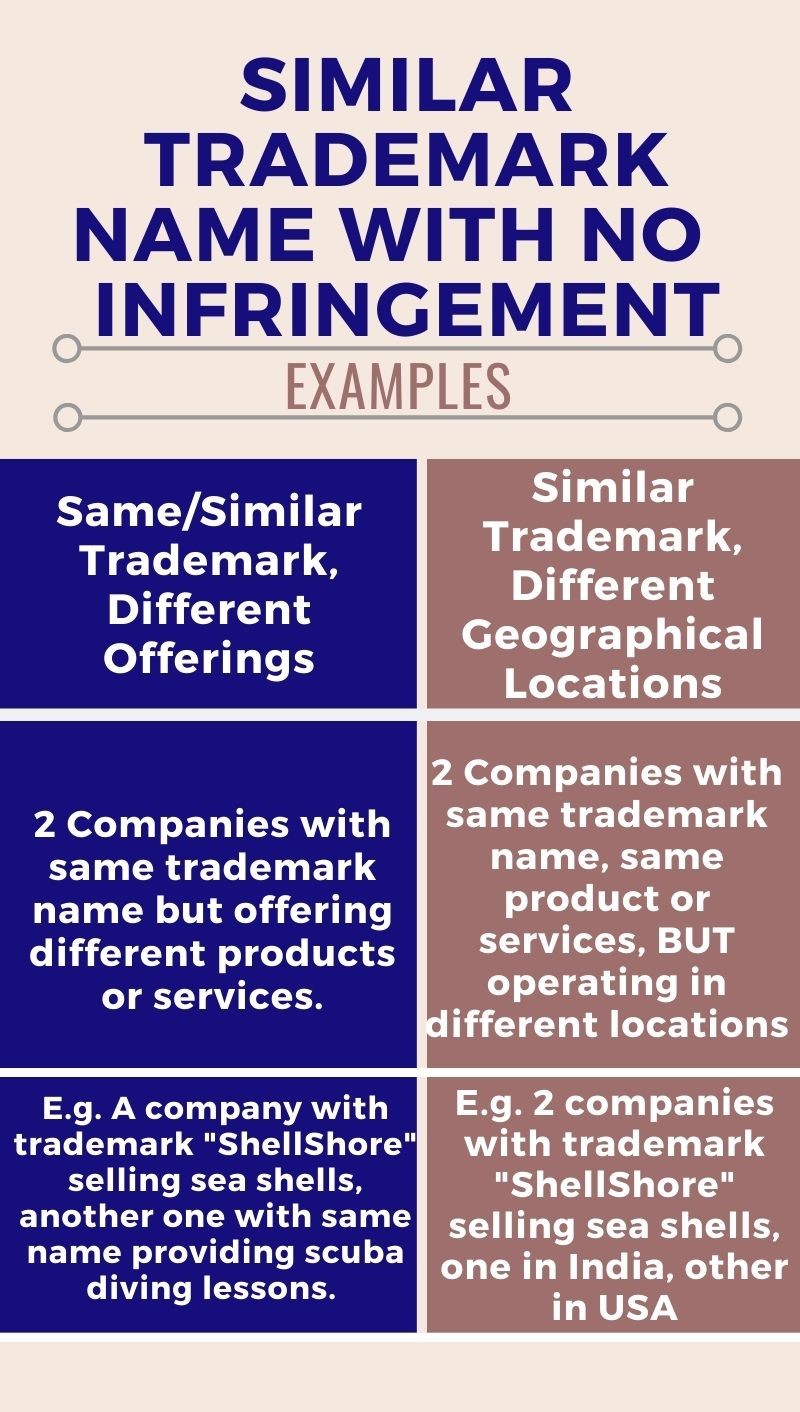 Same/Similar Trademark, Different Offerings
Suppose a company in Texas with a registered mark "Letters from the oceans" sells shells and unique stones. And there is a company with the same trademark name in Texas providing scuba diving lessons. Both of these companies are completely different. While the former is product-oriented, latter is service-oriented. Thus, if there are no chances of consumers getting confused, so there is no issue of trademark infringement.
Similar Trademark, Different Geographical Locations
Continuing with the same example, a company offering shells in India with the same mark name, "Letters from the oceans", will not cause any confusion as the target audience is different geographically.
So if you are wondering about "Can I use a trademarked name for a different product?", then the answer is YES. You can use a trademarked name for a different product or service or even the same products or services in other geographical locations of registrations.
Note: In the case of the European Union, you can register a community trademark to businesses all over EU nations and prevent infringement in all the EU countries. Here is a complete guide to getting a community trademark.
How Different Does a Logo Have to be to Avoid Copyright?
Different enough to not cause any confusion among the consumers between two brands and their products or services.
Copyrights over a logo require that its design be distinctive, which means that it must not appear like other designs and that the elements of color, fonts, lines, and other aspects must be arranged uniquely.
When someone disseminate, duplicate, or present a copyrighted work without the owner's consent, it is a copyright violation. Also, when an organization seeks to use a logo that appears similar to or employs similar wording to another copyrighted mark, one of the most common forms of infringement arises. As a result, if the competing logo leads to confusion, the owner may be held criminally liable for trademark infringement. However, if the same mark symbolizes distinctly different items or belongs to a company in another geographic region, the violation may not occur.
What Happens if Someone Uses My Mark?
If someone else uses your trademark for fair use, you cannot do much. But if someone else is using your mark for commercial use, you can initiate a mark infringement lawsuit. This is because USPTO considers it as mark infringement, i.e., unauthorized or non-permissible usage of a mark for advertising, marketing, and selling of goods and services that can cause:
Deception
A mistake regarding the source of products or services.
If someone else uses your mark, it can have grave consequences on your brand and products. A mark essentially forms your company's identity, and it is best in your brand's interest to save your trademark from any infringement.
Is Your Trademark Safe or Not? Read this blog on how to monitor your trademark
How to File Trademark Infringement?
The common question is, someone has trademarked my business name; what shall I do? Or how to file a trademark infringement case?
If you believe that someone has trademarked your business name, the best option is to initiate a civil lawsuit against the infringer. Whether you choose state court or federal court, it is up to you depending upon the situation.
Here is a step by step guide to mark infringement:
File a civil suit in state or federal court of USA.
Prove that the defendant is infringing upon your mark (refer below to know how to prove trademark infringement)
After proving the infringement of your trademark rights, you can avail any of the following remedies:
Stopping the infringer from using your registered mark
Destroy, forfeit, or stop selling the products & services under the infringed mark
Monetary relief (profits earned by the infringer, damages sustained by the mark owner, legal costs)
How to Prove Trademark Infringement in the USA?
3 criteria for proving trademark infringement in the USA are:
Prove that you own a valid mark 
Your mark has priority or seniority to that of the infringer.
Infringer's mark is likely to or confusing the minds of consumers about the source of underlying products or services. 
Proving trademark infringement becomes easy if you have a registered mark with USPTO. This is because if you have a mark registration in the state registry or USPTO database, the court presumes that your ownership of the mark is valid. You have exclusive trademark rights to use the mark in the USA. 
Is obtaining a Registered Trademark Expensive?
Here is the trademark registration fee breakdown if your products and services are available for sale while you apply for registration
Flat legal fee: USD 950
US Government Filing Fee: USD 350 per class
If you are not selling the products or services during filing, here is the registration fee breakdown:
Additional legal fee: USD 250
Additional US Government Filing Fee: USD 100 per class
Also, you must start selling your products and services within a year of filing (not registration).
How to Find Out if Something is Trademarked?
Simply, perform a trademark search to determine whether your mark is already registered or not. Also, there are many free tools available in the industry to search for the same or similar marks. In fact, trademark search is the first step to ensure your mark is not infringing upon someone else's mark.
How Do I Stop Someone from Using My Trademark?
There are 3 things you can do to stop someone from using your mark:
Register Your Mark
A registered mark has so many benefits ranging from providing mark rights, exclusive use of the mark and providing you seniority in case of a civil lawsuit. 
You must regularly monitor your mark for any same or similar trademarks in the industry with the potential to harm your brand's reputation. Here is a complete guide on trademark monitoring.
Initiate Trademark Infringement Lawsuit
If you find out someone else is willfully using your mark and harming your revenue and reputation. Also, it is best to hire a trademark attorney and file a lawsuit action against the infringer.
How Can TMReady Help You?
To build a brand, you need to create a unique identity in the audience's mind, and a trademark does exactly that for your brand. If you plan to start a small business or have a business but want to get a trademark, we are here with our years of expertise to help you out. We provide A to Z of trademark services, whether trademark search, monitoring or registration. Check out our services and prices here.
More Related Articles
In House Patent Paralegal or Outsource: Which is best?
What is Patent Corporation Treaty?
All You Need to Know About Design Patent Search