Online searching is one of the most convenient ways to gather information these days. With the advent of efficient search engines like Google, things have become even handier and people can find their information in almost no time. People are so accustomed to searching the web that they might mistakenly assume that searching for a new trademark is just as easy as looking for products at Amazon or any other product site. However, this is not the case as it takes expertise and skills to conduct a comprehensive and detailed trademark search.
People search the Internet every day. Search engines and other online tools afford immediate access to a world of information. That world includes an array of databases offering information about trademarks. People are so accustomed to searching the Web that they might mistakenly assume that searching for a new trademark is just as easy as looking for used furniture on Craig's List or esoteric facts on Wikipedia. Doing a reliable trademark search requires understanding of trademark law, attention to detail and rich experience in trademark search.
With this article our main aim is to highlight some of the important purposes that a trademark research can serve to companies and entrepreneurs.


Purposes of Doing Trademark Research
Ascertaining Distinctiveness: Ascertaining distinctiveness is one of the most important purposes of doing trademark research in which it is established if a particular mark is distinct or not. Trademark distinctiveness is an important criterion in the law governing trademarks and service marks. A trademark may be eligible for registration, only if it has a distinctive character. Marks which are very descriptive and generic in nature can't be issued a trademark by the respective authority.
Corporate Name Clearance: Corporate name clearance is another important thing that is looked upon by trademark issuing authorities. Corporate name clearance is necessary because most states, seeking to avoid confusion in state record keeping, permit only one corporation to be incorporated or qualified with a given name. It is wise, therefore, to make sure that the desired corporate name is available before attempting to incorporate or qualify. This effort should proceed in concert with the availability search.
Ascertaining Registrability: Trade mark registrability searches (aka pre-filing searches) are conducted to ascertain whether a trade mark can be registered or not. For example, a trademark search may reveal that an identical mark is still registered, even though the registrant has in fact abandoned it or uses it only on a portion of the goods or services that appear in the registration.
Domain Name Availability: If you are planning to have a domain name that will lead to a live website in marketing the registrant's products or services it is important to do some form of trademark search to ensure if the domain name is available. Using someone else's domain name to sell products or services could put you in jeopardy as you may be liable for infringement.
However, if the proposed domain name will lead to a live website used in marketing the registrant's products or services, often it is advisable to conduct some form of trademark search, comparing the proposed domain name with registered and unregistered marks and other domain names. In many situations, the domain not only will lead to a website but also will double as a trademark, and counsel will conduct a conventional trademark search.
Infringement Disputes: Trademark search and investigation are essential steps before a trademark owner prior to approaching a suspected infringer. Before you serve a 'cease and desist' letter to a party it's important to ascertain the scope of the infringement and to determine if it is worthy to file a trademark infringement lawsuit. All these facts can be revealed by doing a comprehensive, detailed and accurate trademark search.
Trademark Registration: When you are going to make a distinct brand for your products it is important to register your trademark. However, at the same time you need to do a detailed TM search that will ascertain if the word-mark or sound-mark chosen by you is available for registration.
Policing Infringement: Trademark research should be done not only before acquiring a trademark but it is also important to keep a vigilant eye on the products and trademarks that are available at current time. It will enable companies determine if someone is infringing their trademark.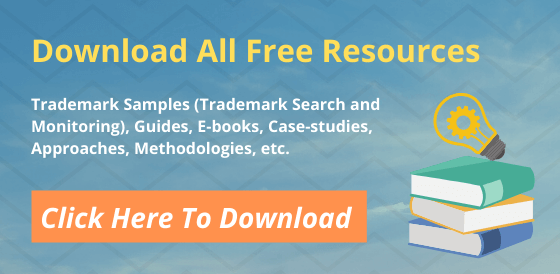 Here you can Download our All free Resources:
Trademark Samples (Trademark Search and Monitoring), Guides, E-books, Case-studies, Approaches, Methodologies, etc.