What is Trademark Monitoring?
Trademark monitoring is basically a service that is used to keep an eye on your trademark. Along with monitoring the trademark, it also focuses on detecting potential infringers. It has become quite crucial especially if you have a business and invested your monetary resources for trademark registration. Thus, it will help you to protect your trademark and let you know if someone else is currently infringing upon your mark.
Types of Trademark Monitoring Services
Based on jurisdiction, a trademark monitoring service can cover a specific nation or monitor on a worldwide basis.
Based on the time span, it can be availed for a fixed or indefinite time period
It is highly advisable to take the help of professional firms as these companies use trademark monitoring systems such as Google AdWords, Google Alerts, and AdWords Keyword Planner to search for particular terminology.
Why do you need a Trademark Monitoring Service?
If there is a possibility of your competitors trying to register trademarks similar to yours, then the trademark monitoring process is an appropriate solution. This will keep track of trademark applications filed by others that are similar to yours. It will also allow you to take precautionary action at right time.
Difference between Trademark Monitoring and Watching
Trademark monitoring is different from watch service which keeps the record of the progress of a specific trademark application. Thus, if you are want to track a particular trademark filing, then trademark watching is an appropriate option for your need.
USPTO and Rejection of Confusable Trademarks
USPTO itself refuses the registration of similar trademarks. However, there may be instances where USPTO's trademark attorneys overlook or miss similar registered trademarks. In such cases, a trademark monitoring service might become helpful. It will enable you to find even those trademark applications that evade the leaky holes in the USPTO trademark review and examination process.
Also Read: How to Identify 'Likelihood of Confusion' Stated in USPTO Rules?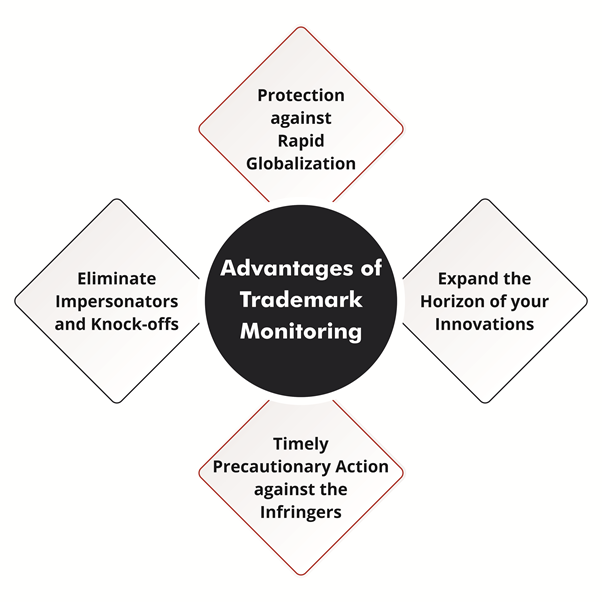 Advantages of Trademark Monitoring
Trademark monitoring is important as it protects against rapid globalization and a complex economy. With a more complex economy, the chances of infringement also increase for both b2b and b2c industries.
Further, it acts as damage control and boosts freedom to expand the horizon of your innovations.
By staying observant of trademark infringement, you can also eliminate impersonators and knock-offs. This helps you to excel in the market.
It ensures to shield your rights and inform you in case of a trademark filing for a similar trademark takes place.
Timely action against an attempt of trademark infringement is its most important advantage. Thus, you can defend your trademark rights on a legal level easily by sending cease and desist letters. You can also start opposition and cancellation proceedings by appealing to the Trademark Trial and Appeal Board.
Also Read: How to Conduct Global Trademark Searches Cost-Effectively
What are the Drawbacks of not having a Trademark Monitoring Plan
Not monitoring your trademark enhances the chances of infringement and someone else getting one quite similar to yours. You may also end up losing the trademark rights to your trademark if someone else began to use similar trademarks. If these similar trademarks are closely associated with goods and services comparable to yours then your trademark will lose its value. This is because your trademark won't be unique in the market anymore. Along with loss in value, you will also lose to the competition which will ultimately affect your revenue.
Also Read: Trademark Infringement: How to Eliminate the Risk Successfully
Why Choose us?
Our team of experienced IP professionals uses both conventional and non-conventional methods to help you shield your trademark against infringement. Our experts monitor the current and potential market risks. Moreover, our services costs are affordable. We also provide personal customized monitoring services based on your requirements and budget. We ensure to provide the best monitoring services that will enable you to take precautionary measures at the right time. Want to know more about our services? Visit us
Other Relates Articles
Why Trademark watching is Important? | The Trademark Watch Company
A to Z of Trademark Registration – The Trademark Filing Company
Trademark Watch Services: Benefits | The Trademark Watch Company