Trademarks are one of the most potent ways to protect a brand from competitors; however, getting a trademark may be a costly affair if it is not accompanied by a thorough and professional trademark search. It is wise to invest a little money rather than paying a hefty sum after being encountered with a trademark infringement. There are plenty of reasons for doing a trademark search, however, with this article we have come up with some important ones.

You give yourself a better chance of success in a registration: No matter whether you do a trademark search beforehand or not, the U.S. PTO will definitely do it and will not allow a mark to be registered which is duplicated and/ or doesn't meet the basic requirements. But in case U.S. PTO do this and find discrepancies you not only lost your mark but also the filing fee, time and other valuable resources you invested on it. Thus, it is important for an applicant to do a full trademark search beforehand to assess if they are investing right.
You avoid inadvertently infringing on another mark: The consequences of not doing a professional trademark search could be detrimental as you run the risk of infringing on someone else's mark. If you somehow (intentionally or unintentionally) used someone else's mark and if the party can prove that your mark caused a loss of business for them, you may be required to pay the damages. The damages in a trademark infringement case can be as severe as disgorgement of profits and payment of the other party attorney's fees. A complete trademark search helps you identify such potentials and thus you can avoid it.
You protect yourself from lost money, resources, and time: When you are putting a lot of money, time and resources on a mark you want profits at the end of the day, but what if someone backfire you with a trademark lawsuit alleging that you used their registered mark to sell your own products. With this not only you'll be required to cease using the mark but it can result in a big financial loss with inventory that may need to be repackaged, or may no longer be used at all. If you had done a full trademark search before moving on, this could have been avoided and you would have saved your valuable resources.
To monitor your competition: Protecting your brand is not a one-time event, it is a continuous process and you will need to monitor your domain continuously to look for any kind of misuse. There are plenty of methods those we can employ to see if someone is abusing our marks and brands like doing a search on official databases, searching on major search engines, looking at HTML codes, Looking at adwords phrases and many more. However, here we are not going to discuss how to monitor trademarks but we will emphasize on the fact that that trademark monitoring is important and you need to do it continuously.
Enforcing rights on infringers: When you have invested so much of your valuable time, energy and resources in a brand and find someone is abusing it you have every right to enforce your rights and get the compensations. An effective trademark search can help clients identify those culprits and thus you can enforce your rights.
Putting it simply, we can say that a professional trademark search could outweigh the overall cost of a trademark infringement being encountered for ignoring it.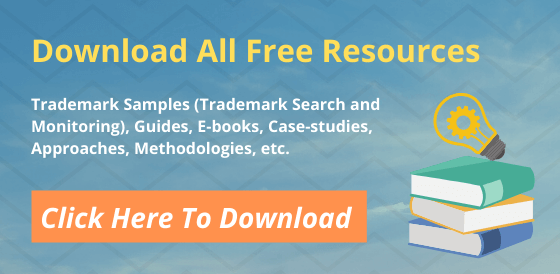 Here you can Download our All free Resources:
Trademark Samples (Trademark Search and Monitoring), Guides, E-books, Case-studies, Approaches, Methodologies, etc.