Conducting a trademark search is not a rocket science; still, it is something that requires deep understanding of trade laws, regulatory framework of the intended jurisdiction and expertise in database search strategy. For uninitiated, doing a comprehensive, reliable and authentic trademark research could be a tough nut to crack and hence we need a TM search expert who can assist us in every aspect of doing research for trademarks.
Since, these are professionals they understand the nitty-gritty of trademark search in a much more detailed manner and thus can come-up with trademark analysis reports those are worthy. So, if you are willing to go for a comprehensive trademark search following are the ways that may underline why we need a TM search expert.


What a TM Search Expert will Do You For
Quick Research: With the passage of single second you are risking losing your intended trademark because somebody else may come-up with the idea and register it before you do. Since you have limited amount of time and you need to make your decision at the earliest you also need to do your search at the earliest. In such a situation when you are looking for a quick trademark search, a professional trademark search firm could help.
Step-by-Step TM Search: Trademark search is a step-by-step process where various criteria and procedures are followed to reach to the logical conclusion. For example you may be required to do federal trademark search, state trademark search or common law research and that too with variation in parameters like synonyms, spelling variations, word placement, etc. A professional trademark search company understands the nitty-gritty of overall process and can give you the result you are looking for.
Comprehensive Research: There may be occasions when you are not merely looking for a narrow search rather you may be looking for broad search that can cover multiple jurisdiction with multiple goals. A comprehensive search may include innumerable number of databases, with multiple jurisdiction and various parameters all of which collectively can be offered only by professional search partners.
Expert Analysis: When you are doing trademark search then you are not merely looking for data rather you are looking for some valuable insights. These companies can provide expert analysis to their clients and hence are preferred by enterprises and companies.
Skilled in Conducting Thousands of Trademark Search: What we do once in a while these trademark search companies do round the clock and hence are accustomed with doing effective trademark search for clients. Since they are skilled in conducting plenty of trademark searches they can help businesses do reliable trademark search.
Availability of Innumerable Databases: There are plenty of databases available some are paid while some are free. A trademark search expert knows how to go about each database and how to do the search. Since these trademark search firms have plenty of available databases they can help you search the exact result.
Assistance in Preparing and Filing Trademark: These professional trademark search companies can not only help you search relevant data but can also assist you in filing trademark for any jurisdiction that you are looking for.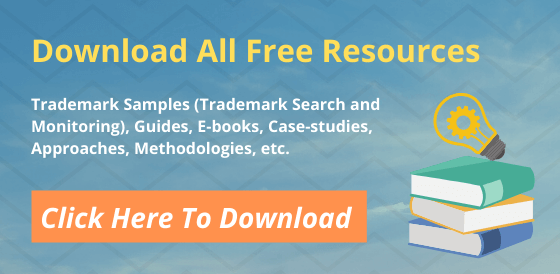 Here you can Download our All free Resources:
Trademark Samples (Trademark Search and Monitoring), Guides, E-books, Case-studies, Approaches, Methodologies, etc.