Wish to protect your brands in the United States then applying for trademark could be the best possible option. However, getting a trademark in the United States is not a cake walk as applicants are required to meet many requirements. Failing to meet those requirements can make or break your objective. With this article, we have tried to outline some important facts about trademark in US. Here are ten of those important facts:

First-to-Use: Unlike patents which are granted on First-to-File basis trademarks are granted on First-to-Use basis wherein a trademark can be deemed valid as long as you are having the proof of being used those marks in products and items.
Generic, descriptive, and derogatory marks are not allowed: Not all marks get approved by the United States Patent and Trademark Office and there are some qualifications those should be met before a trademark is granted. For example, a trademark can't be generic and descriptive and it should be unique. Marks those are generic and descriptive in nature are not allowed to be trademarked. You might remember that in past the USPTO turned down the application for "OBAMA PAJAMA" as it is derogatory. Simply put, marks need to meet certain requirements before it is approved by the PTO.
Common Law is applicable: As we mentioned earlier that a trademark in US is granted on First-to-Use basis in the United States and it is deemed valid as long as you are having the proof of using that mark in any of your products. In other words, we can say is that it is not mandatory for applicants to get a mark registered with the U.S. PTO. And hence common law is applicable in the United States.
Trademark Search is advised: Though doing a trademark search prior to filing an application is not mandatory, still, it is advised so that you don't have to reinvent the wheel. A prior trademark search let you assess the strength of your mark.
Database for Trademark Search: There might be many databases to do a trademark search however, the official one is "Trademark Electronic Search System Database" offered by the U.S. PTO for trademark applicants. With a user-friendly interface the database hosts hundreds and thousands of trademark related data that can provide valuable insights to applicants.
Obligation to do trademark monitoring: Trademark monitoring is another important aspect of protecting a brand wherein marks are monitored continuously to assess if it is being abused anywhere. The obligation of doing a trademark monitoring lies on the applicant and it is their duty to inform USPTO of any kind of misuse.
Trademark violation is a criminal offence: The trademark law in the United States is stringent compared to other countries and violating it is a criminal offense. Trademark owners have the right to enforce it and get compensated in case it is being violated by a party.
The ® symbol and ™ Symbol have different meaning: Like many other countries The ® symbol and ™ Symbol in the United States have different meaning and these should be used accordingly. The ® symbol can be used when the trademark is registered while ™ should be used only when the process is going on.
Applicants can check the status of their application: The U.S. PTO offers plenty of tools and techniques for trademark owners or applicants to know the status of their application. The Trademark Status & Document Retrieval System or (TSDR) is the official one to know the status of the application.
Trademarks are renewable: Trademarks in the United States remain alive as long as you renew it. Most state trademark registrations are good for 5 to 10 years, at which time they must be renewed. For federal trademarks, an Affidavit of Use ("Section 8 Affidavit") must be filed: (1) between the fifth and sixth year following registration, and (2) within the year before the end of every ten-year period after the date of registration.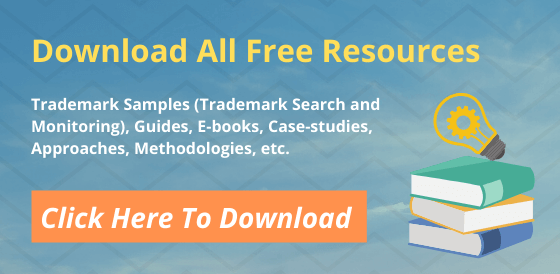 Here you can Download our All free Resources:
Trademark Samples (Trademark Search and Monitoring), Guides, E-books, Case-studies, Approaches, Methodologies, etc.