I am sure you have eaten at McDonalds at least once in your life or maybe just took a happy meal and ate at your comfort place. But have you ever wondered about the McDonalds' classic "I'm Lovin it" sound?
YES, that is an example of sound mark.
Can Sound Be A Trademark?
If you have ever used a Nokia or Samsung phone, you must be familiar with the signature sound when you switch on the device. But do you have any idea that one can even register a sound as a trademark? Yes, an mp3 file can be the unique identifier for your brand if registered as a sound mark.
Imagine your brand has an attractive and unique logo with a distinctive sound, crazy?
Some sound mark examples are McDonald's "I'm Loving it" and Airtel's signature ringtone.
In this article, you'll discover more about sound trademarks and how to register a sound mark for your own brand or company.
What Sounds Have Been Trademarked?
Audi's heart-beat sound logo.
Federal Signal Q2B Siren
The NBC Chimes
Intel Inside Bong
Mcdonalds' "i'm lovin'it"
Britannia (four-note bell sound)
Airtel ringtone
Lucasfilms THX Deep Note
AAMCO Transmission – automobile repair – "Double A – TOOT TOOT – M C O"
TWENTIETH CENTURY FOX – entertainment – cat's meow
ESPN – entertainment – sports programming – six musical notes
Nokia and Samsung (switching on device sound)
Mister Softee – ice cream trucks – musical jingle
SPANISH COAST TO COAST – radio – music + "RADIO VARIEDADES"
Yahoo (human voice saying hello)
TC Entertainment -entertainment – a musical phrase
MGM – Entertainment – Roaring Lion
Al Ham Productions – Entertainment – The Dreams We Share, We'll Always Remember, Remember With The Music Of Your Life "
America Online – online multi-user computer sound mark "You've got mail"
Beneficial – Insurance -" At Beneficial TOOT TOOT You're Good for More…"
Smell Marks: Most Rare Trademarks in The World
Which Countries Allow Sound Trademarks?
Australia (Under Trademark Act, 1995)
China (Under China's Standards for Trademark Review and Examination)
UK (Under The Trademarks Act, 1994)
India (Under Trademark Act of 1999)
USA (Under Lanham Act)
Canada (Under Trademarks Act of Canada)
Japan (Under Trademark Act of Japan)
Sound Trademarks in India
As diverse technology and advertising strategies have evolved, several additional source identifiers such as sound, form, fragrance, and others have emerged as registered trademarks.
A mark is explained as a "device, brand, heading, label, ticket, name, signature, word, letter, numeral, a form of products, packaging, or a unique color combination" as per Section 2 of the Indian Trade Marks Act, 1999. Because the definition isn't complete, it's safe to assume that non-traditional trademarks like fragrance, form, and color would fit within its umbrella. And rightly so, many sound marks have been registered in India.
Sound Trademark Examples in India
The Yahoo' yodel was the 1st sound mark in India identified in India in the year 2008.
Next in the line was ICICI Bank's became the first Indian company to have its own sound mark, Dhin Chik Dhin Chik.
National Stock Exchange's Theme Song
Nokia Guitar Sound
Airtel Ringtone
The trademark registration procedure has been streamlined, with a greater emphasis on online service delivery of trademark registration and other procedures, after the adoption of the revised Trade Mark Rules, 2017.
This announcement has also made it easier for businesses to make applications for sound mark registration by allowing them to attach an mp3 file to the application. The 'Factual Distinctiveness' of the sound is a requirement that one must fulfil to register a sound mark. Here, the 'Factual Distinctiveness' refers to the good/ service's recall value of sound.
Also Read: Certification Marks: How to Get One for Your Products?
Requirements for Registration of Sound Marks in India
The Trade Mark Rules, 2017 stipulate the following necessary conditions for registering a sound mark in India: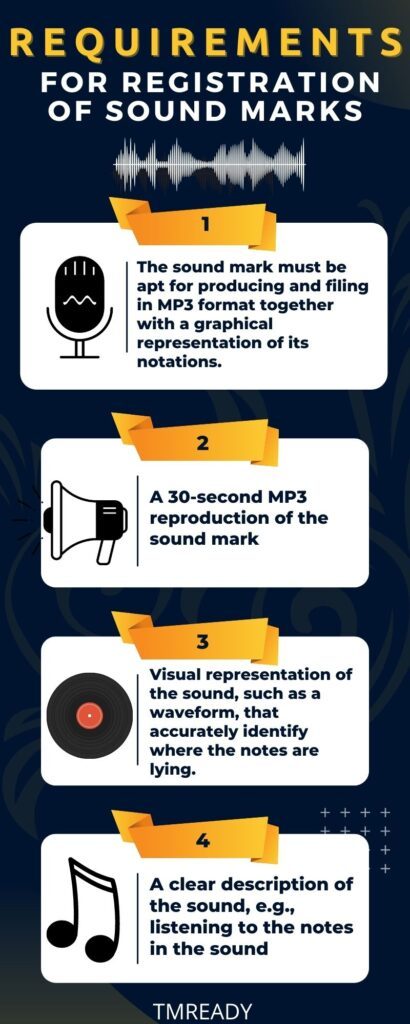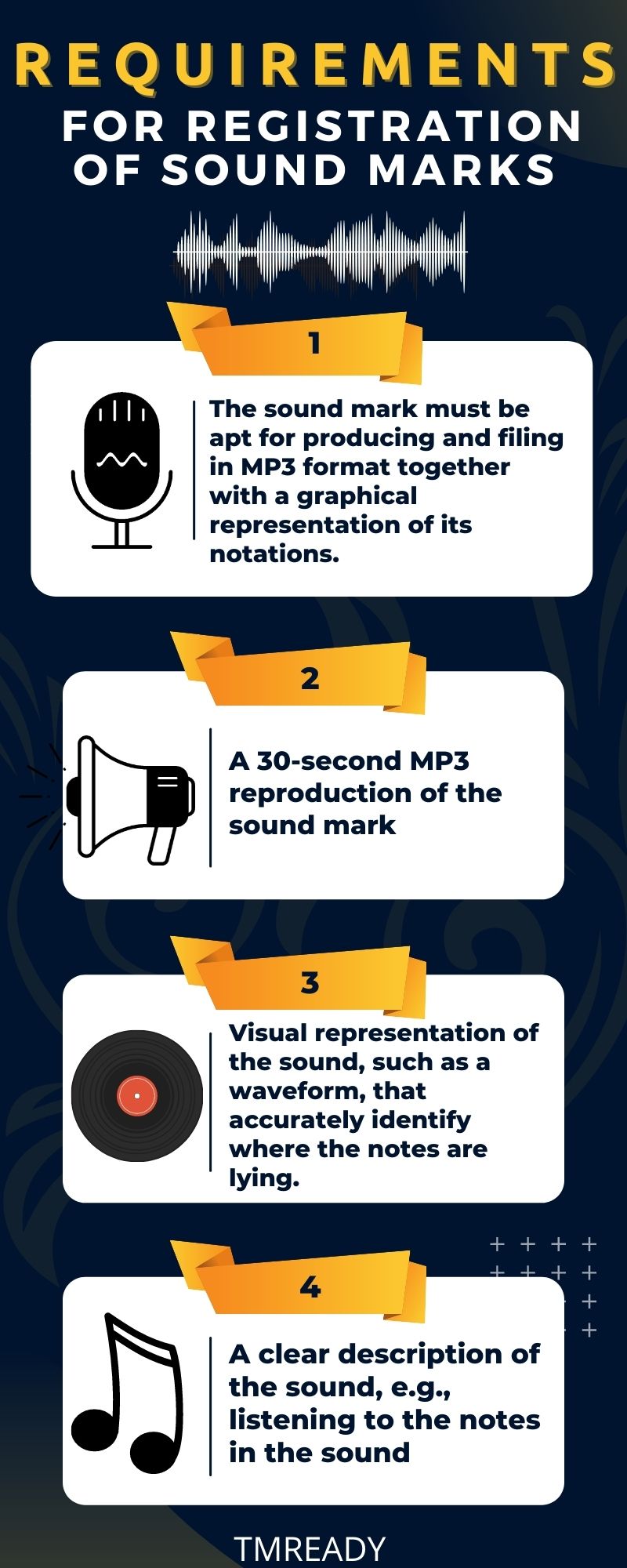 The sound mark must be apt for producing and filing in MP3 format together with a graphical representation of its notations.
A 30-second MP3 reproduction of the sound mark
A visual representation of the sound, such as a waveform or a note sheet or musical notations that accurately identify where the notes are lying.
A clear description of the sound, e.g., listening to the notes in the sound.
Other formats will not be approved for registration unless there is a facility for an electronic recording of the sound on CD or DVD.
Sound marks must have a factual distinctiveness and should not be generic in nature.
Thus, you can also use musical notes to graphically depict a sound mark in India, simplifying the trademark registration procedure.
Also Read: A-Z Guide to Trademarks in 2022
Sound Marks Registration Process in India
The registration process for a sound trademark is the same as it is for any other trademark, including device mark, logo mark, etc. The steps are as follows:
1. Perform A Trademark Search
A trademark availability search for identical or similar sound marks will help you determine whether any existing trademarks are similar to the one you'd like to register. Moreover, it will also determine if the requested trademark is already in use.
2. Application Submission
The applicant must apply to the Trade Marks Registry in India. Before submission, make sure that:
The proposed sound mark is not generic in nature
There are no similar marks registered or in use that may confuse the consumers
Your application for registration is complete and consists of all the required documents and details, such as musical notes, trademark class, etc.
3. Examination
The trademark examiner at the Trade Marks Registry will scrutinize a trademark application for any problems after its submission. The trademark may be accepted conditionally or objected to by the examiner.
4. Publication In The Trademark Journal
If the trademark examiner finds no issues with your sound mark registration application, he/she will approve the application for publication in the Trademark Journal.
5. Opposition
Anyone can oppose the sound mark after its publication in the journal. Here, there exist 2 possibilities:
If there is no objection within 3-4 months of publication, the trademark goes ahead for registration.
In there is an opposition, the Registrar holds a fair hearing and decides. But if the other party wins the hearing, the examiner may reject the trademark application.
5. Registration
Following the completion of the preceding processes, the Trade Marks Registry Office registers the sound mark.
What Is The Life Of Sound Marks in India?
Like other trademarks, sound marks are valid for 10 years after registration. Then, it would be best if you renew your sound mark after expiry to continue their further usage.
Government Fees for Sound Mark Registration in India
| | |
| --- | --- |
| Category | Fees For Sound Mark Registration |
| Individuals/ Small Enterprises/ Startups | INR 4,500 to INR 5,000 |
| All Other Categories | INR 9,500 to INR 10,000 |
Fees for Sound Marks Registration in India
Sound Marks & Related Cases
As the trend for sound marks is still in the infant stage in India, there have not been any sound marks cases in India. However, the scenario is quite different in countries like the USA, UK, Canada, etc.
For example, the market for intellectual properties, including sound marks, is at an advance stage in the USA. Not only have hundreds of good marks registered at USPTO (you can access the list and even listen to the registered sound marks here), but also equally high are the oppositions and cases. One of the best examples in this regard would be Harley-Davidson application for their V-twin engine exhaust sound as a sound mark in 1994. After years of hearing due to 9 oppositions, the company dropped the registration application midway.
What Are The Benefits of Sound Marks?
Due to sound trademark protection, the ability to prevent any third party from abusing the registrant's sound mark rights.
The main benefit of registering a trademark is that it gives you exclusive rights to the mark. This means you'll be the only one in the country to launch or sell items or services bearing the same brand name.
The monopoly over statutory rights connected with securing trademark registrations for sound marks is a clear benefit.
The proper enforcement of a registrant's right in a mark guarantees that unauthorized third parties do not take advantage of the mark's goodwill and reputation and that the (sound) mark does not become diluted.
Sound mark registrations are renewable regularly to guarantee that the registrant receives sufficient compensation for the time and effort invested in developing the sound mark.
FAQs
Can sounds be trademarked in Canada?
Yes, under the Canadian Intellectual Property Law, you can register sound marks with CIPO in the same way as other types of trademarks (logo, device). As a result, during a ten-year renewable period, the owner of a sound mark will have the exclusive right to reproduce the sound for their purposes commercially.
Is the lightsaber sound trademarked?
Yes, by Lucasfilm. The noises that lightsabers make while wielded, retracted, and swung are another distinguishing feature of sound registered by Lucasfilm.
Is Darth Vader breathing copyrighted?
Darth Vader's breathing is trademarked as a sound mark, not copyrighted. But the Darth Vader masks are not trademarked.
Is Harley-Davidson sound trademarked?
No, the company tried to register a sound mark for the unique Harley-Davidson sound in 1994. But guess what followed? 9 oppositions and 6 long years of litigation. Result? The company dropped its sound mark registration application midway. But the Harley -Davidson name, their H-D bar and shield logo, related logo names, logos, product and service names, designs, and slogans are all trademarked.
Want A Sound Mark For Your Brand But Confused about How to Proceed? We, Will, Help You
Understanding and following the complex trademark registration procedures is challenging, and we get it. Especially when someone wants to get a sound mark, i.e., an unconventional form of the trademark with complex details and little information.
This is why TMReady is here to smoothen the procedure for you with our attractive pricing, expert help, and experienced trademark attorneys. Want to know more about our services? Visit our website here.
More Related Articles
Most Important Patent Drawing Rules for 2022
Patent Application Proofreading Steps to Make Error Free Patent
Need of Patent Drawings in Patent Application